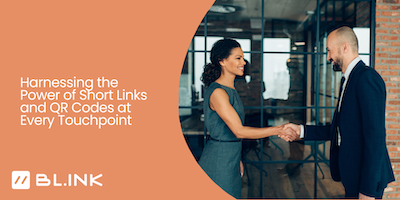 Harnessing the Power of Short Links and QR Codes at Every Touchpoint
As a marketer, it is critical to ensure that you are reaching your target audience through all available channels. Technology has evolved and new innovations allow for unprecedented levels of engagement, personalization, and robust analytics.
BLINK short links and QR codes provide the perfect solution for engaging customers across multiple touch points – from product packaging to email marketing, social media, and beyond!
Read on to learn more about how branded short links and QR codes can be used at each step of your workflow process in order to maximize reach, increase conversions, collect valuable customer insight and drive successful outcomes.
Maximize your campaigns with branded short links and custom QR codes
The perfect link is typically filled with UTM parameters and tracking information, but makes for a very long, unsightly, and intimidating link. BLINK short links and QR codes are the perfect solution for creating easy-to-share links and QR codes to maximize your engagement.
Branded short links are created using a custom domain that promotes your branding (not ours!) that are proven to be more clickable than a generic short link. Custom QR codes also use your branding, colors, and logos to create a trusted QR code that redirects your audience seamlessly, providing a better overall customer experience. Both QR codes and branded short links can be edited at any time, so that your content stays relevant even after the campaign has finished.
BLINK short links and QR codes are also trackable. Use the built-in BLINK analytics to gain insights into clicks and scans, including location, device, and referrer information. Connect BLINK with your existing analytics platform and use the BLINK URLBuilder to streamline link creation for your entire organization while maintaining consistent tracking parameters.
Enhancing Product Packaging with BLINK Short Links and QR Codes
In today's competitive market, product packaging plays a vital role in catching a potential customer's eye. That's why it's important to make it stand out in a crowded retail space. One way to do so is by incorporating BLINK QR codes on packaging.
These codes not only add an interactive element to the packaging but also provide a quick and easy way for customers to learn more about the product, enter a giveaway, or go directly to your website.
Enhance your product packaging with BLINK QR codes to make it more engaging and to help your customers make informed purchasing decisions.
Turbocharging your SMS Campaigns with BLINK Short Links
There's no doubt that SMS campaigns can be incredibly effective. And with SMS, brevity is crucial. In SMS marketing, your links should be short and branded -- using your domain builds trust with every touchpoint. Additionally, a short link takes up less space so that you have more characters to convey your message.
BLINK Short Links are a great solution for SMS campaigns. Not only can you create and track your links easily, but you will also be able to get analytics on their click-through rate, including location and device information. This data can help inform future campaigns so that you reach the right people at the right time with the right message.
Learn more about creating messaging campaigns that click.
Utilizing BLINK Short Links in Email Marketing
As an email marketer, you probably know the importance of including clickable links in your emails. With BLINK, you can create short links that are easy to remember and share, even on platforms with character limits.
Using BLINK short links within email marketing campaigns presents tremendous opportunities for data-driven decision making and campaign optimization. These short links do not only serve to make your emails look cleaner and more approachable, but they also provide valuable insights into user behavior.
BLINK automatically tracks metrics such as click-through rates, location, device information and more, so that you can gain a deep understanding of what content resonates with your audience.
This information can then be used to tailor future campaigns, segment your audience efficiently, and ultimately drive increased engagement and conversion rates. An added advantage is that these branded links, created using your own domain, foster trust and brand consistency across all touchpoints.
BLINK Short Links are perfect for Social Media campaigns
Are you looking to level up your social media strategy? With BLINK, you can create custom short links that are easy to remember and share with your audience.
Utilizing short links in your social media strategy can boost engagement, drive traffic to your website, and even increase sales. Plus, they help keep your messages concise and to the point.
BLINK also provides you with powerful analytics that will provide insights into your campaigns' performance. From click-through rates to device information, social media referrals, location data, and more – these metrics can be used to optimize future campaigns for maximum engagement.
Capturing Customer Sentiment with BLINK Short Links and QR Codes
Capturing customer sentiment is critical to improving any business's performance. With BLINK short links and QR codes, it has never been easier to do so. By creating short links and codes that lead directly to feedback forms or surveys, businesses can gauge their customers' satisfaction levels with ease.
This information can then be used to make strategic decisions that will improve the overall customer experience. Customers appreciate when their opinions are valued, and BLINK short links and QR codes allow businesses to show that they are listening. Don't miss out on this opportunity to improve your business's performance.
Streamlining Inventory Management with BLINK QR Codes
Inventory management is a vital part of any business, and BLINK Short Links and QR Codes provide an innovative solution to streamline this process. For instance, QR codes can be attached to each item in the inventory, enabling easy tracking and fast retrieval of product information. When scanned, these QR codes can redirect to a short link which contains detailed product data such as its location in the warehouse, quantity available, and other relevant information. This cuts down on the time spent searching for items and reduces the likelihood of errors in inventory management.
Furthermore, the use of QR codes allows for real-time inventory updates. When a product is scanned at the point of sale or when it is moved within the warehouse, the inventory data can be automatically updated. The built-in analytics of BLINK also provide valuable insights on product turnover rate, popular items, and stock discrepancies. This innovative approach to inventory management makes the process faster, more efficient, and less prone to error.
Wrapping Up: Maximizing Engagement with BLINK Short Links and QR Codes
BLINK short links and QR codes can be used for virtually every touchpoint to create a seamless user experience. Whether you are packaging products, launching a SMS campaign, sending emails, or utilizing social media strategies, BLINK allows businesses of all sizes to quickly and easily increase their reach and engage with customers in new ways.
In addition to the convenience of using these tools, BLINK also enables businesses to capture customer sentiment and monitor inventory management effortlessly. By leveraging data from BLINK analytics, businesses can make informed decisions that help maximize engagement and ROI.
Want to learn more? Let's link up.