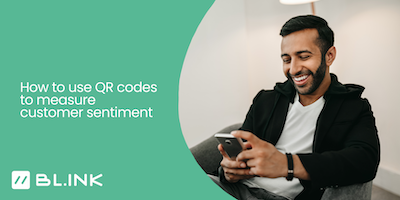 How to use QR codes to measure customer sentiment
Are you looking for an effective and engaging way to measure customer sentiment? QR codes could be the answer you're looking for. By leveraging this technology, it is possible to measure customer satisfaction quickly and efficiently, while keeping the customer experience top of mind.
In this post, we'll look at how marketers, customer success teams, and brands can use QR codes to gain valuable feedback from their customers and improve their services or products. We will discuss why QR codes are ideal for measuring customer sentiment, how they work, and practical tips on utilizing them in common scenarios for maximum benefit.
Why you should consider QR codes to measure customer sentiment
QR codes are the future when it comes to gathering customer sentiment. Not only are they convenient for customers to use, but they also provide businesses with valuable and actionable insights into their customers' overall engagement.
With the rise of smartphones, QR codes have become an increasingly popular way for businesses to connect to their customers or audience and analyze data. By using QR codes, you can easily measure customer engagement in real-time and collect valuable feedback about your products or services.
QR codes allow you to meet your customer where they are, connecting them with your digital content in just a scan. Because the user experience is seamless, and the process is quick and easy, more customers are likely to engage and offer feedback than ever before.
So why wouldn't you take advantage of QR codes? By doing so, you'll be able to gain a deeper understanding of your customers and make informed decisions that can help you take your business to the next level.
How to create a QR code in BLINK
Creating a QR code with BLINK is easy, and can absolutely be connected to your feedback landing page or website. You'll simply create a link in BLINK pointing to the destination URL of your feedback survey or landing page. Once the link is created, you may download the QR code directly to your computer and distribute it to your customer on printed materials, mailers, emails, and more.
Additionally, because BLINK QR codes are connected to the short link, the destination is always editable. So if your feedback landing page or software changes, you can update the destination in seconds.
With BLINK, building a QR code is quick and painless, allowing you to connect with your customers in a fun and efficient way.
Tips for designing the best QR code for customer engagement
Designing a QR code can feel a bit overwhelming when you're first getting started. For BLINK Enterprise users, we recently launched QR code templates to take the guesswork out of the equation.
Account administrators can create custom QR codes that reflect your brand's look and feel. Once the QR code templates are created, any user can download a templated, customized QR code directly from their link details page.
We've put together some helpful tips for creating the perfect QR code.
First, make sure your QR code is clear and easy to scan. Include adequate contrast between the background color and the body color to ensure that your customer has no issues scanning it.
Second, decide whether to keep the QR code in standard black and white, or to customize it. BLINK QR code templates offer customization options for color, shapes, size, logos, and more. And if you're customizing the QR code, make sure to stick to your branding guidelines. You want the customer to recognize the branding and trust it before scanning.
ALWAYS test the QR code before sending it to print. It is worth the extra step since an unscannable or dead-end QR code can be extremely costly if it's been printed and sent out to your customer base. Additionally, if a QR code can't be scanned by your customer seamlessly, you risk losing that engagement permanently going forward.
You also want to be sure to provide a clear call to action. What do you want the customer to do once they scan the code? What can they expect to find on the other side of the QR code? Make it clear and straightforward.
Finally, track your results. Use BLINK analytics to view scan data, location data, frequency of clicks, and more. If you're creating a unique QR code for each customer, you may consider using this data to strategize future communications with your customer. For example, if they didn't scan the QR code at all, you may want to follow up to encourage them to complete your survey.
Use the BLINK Google Analytics URLBuilder to build out your UTM parameters for your QR codes to help you dive even deeper into customer insights and behavior post-scan. By following these guidelines, you'll be on your way to creating a QR code that will truly engage your customers!
Best practices for using QR codes as part of an overall customer satisfaction strategy
QR codes have become increasingly popular in recent years, and many businesses are discovering the benefits of incorporating them into their customer satisfaction strategy. But with great power comes great responsibility, and it's essential to use QR codes correctly so that they enhance, rather than hinder, the overall customer experience.
To get the most out of your QR codes, make sure they lead to relevant content, such as exclusive discounts or informative videos. Additionally, be sure to provide clear instructions on how to scan the code, as not everyone is familiar with the technology.
Regularly monitor your links or QR codes for broken destinations or outdated content to ensure that your customers aren't being led to the wrong destination. BLINK's Broken Link Report for Enterprise will automatically check your links and QR codes for 404 responses, and email the account admins if one of the destinations is broken.
Additionally, BLINK allows you to edit the destination as many times as you want, with only a few clicks, so you can reuse your QR codes over and over.
By following these best practices, you can use QR codes to increase customer engagement and satisfaction.
BLINK helps you to connect with your customers
QR codes are a great way to measure customer sentiment and create value for your business. They provide the ability to connect your audience to surveys to help capture customer feedback. This feedback can help you to gain valuable insights into how customers feel about your brand, product, or services.
By taking the time to design the best QR code that matches your visual branding and understanding the different techniques to boost engagement, you're able to have a better understanding of how your customers feel about their experience with your business. The key is not only to take action on the data captured from QR codes but also to review this data consistently so that you can optimize your customer satisfaction strategy. Customer sentiment is better with BLINK.
Want to learn more? Let's link up.