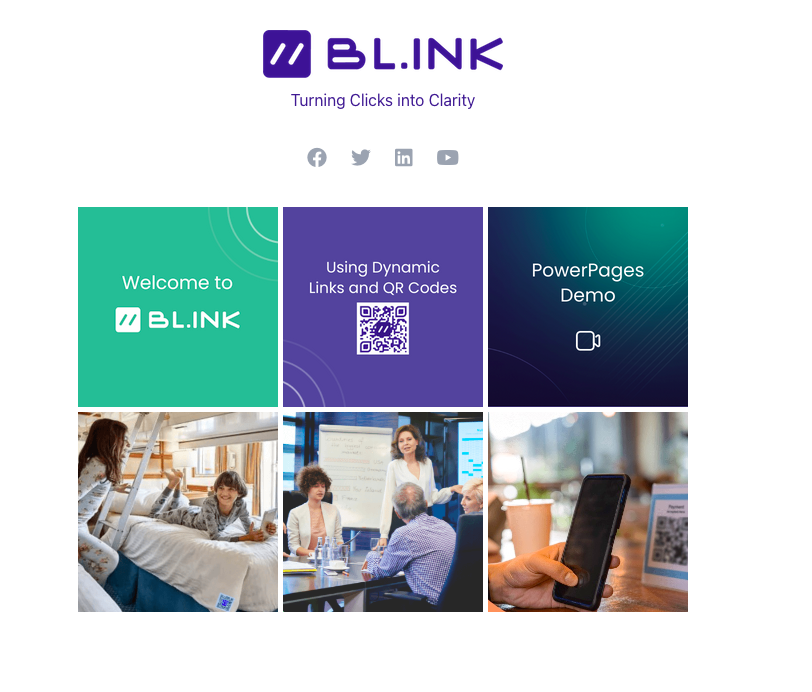 Create Your Power Pages in 3 Easy Steps
✅ Choose your very own shorten URL with your brand name.
✅ Create your landing page with social media links integrated.
✅ Generate a QR Code for your PowerPage and share it with your followers.
Creating a power page is a fantastic way to consolidate your online presence and make it accessible to your audience in one centralized location. All you need is to follow these simple three steps to elevate your brand, offering a unified experience to your audience.
BLINK PowerPages Features
Multiple Power Pages

Create pages for each of your brands, all under one central platform.
Complete creative control
Customize colors, logos, and social media icons to match your existing brand guidelines.
Real-time analytics
Image blocks utilize short links so that you can dive deeper into customer engagement.
Your Business Without Power Pages
In today's digital landscape, where content is king, one link simply doesn't cut it. Social media platforms often impose character limits or restrict the number of links you can include in your profile or page. This can limit your ability to share your wide range of content, products, or services with your audience. But with BLINK PowerPages, this is no longer a problem. Power pages allow you to curate, organize, and track all your best links in one place. Your audience can easily discover and engage with more of your content, without having to navigate through multiple links or platforms. Power pages revolutionize the way you share content, making every link count.
When different brands under your organization use different tools for their online presence, it can lead to a disjointed experience and added complexity. With BLINK PowerPages, you can bring cohesion to your organization's online presence. Power pages provide a centralized platform for all your brands, making it easier to manage, track, and update your content. The uniformity brought by the power pages ensures that regardless of the brand, your organization presents a united front online.
A lack of cohesion and control over the look and feel of your landing pages can compromise your brand's image and dilute your brand messaging. PowerPages provides a solution to this common pain point. With our power pages, you can personalize your landing pages to match your brand's signature elements, no technical skills are required. Upload your logo, choose your brand colors, and select the font types that best represent your brand. With power pages, you have complete control over your landing page design, ensuring a consistent look and feel that resonates with your brand identity.
Without insight into your bio links traffic, you're missing out on valuable data that could guide your marketing strategies. BLINK PowerPages tackles this issue head-on. Power pages not only let you aggregate, manage, and track all of your links from a single location, but it also provides comprehensive analytics on your links' performance. You can track total views and clicks, as well as the devices, referrals, and geographical locations driving the most traffic. Power pages turn your bio links into a source of actionable insights, helping you understand your audience better and optimize your content strategy.
Without the use of dynamic links, users may face a disjointed and inconsistent experience. They could end up being directed to generic landing pages that don't match their interests or needs, or worse, broken links that lead nowhere. This can frustrate users, negatively impact their perception of your brand, and deter them from further engaging with your content.
As your business grows and evolves, your link management needs will likely increase and become more complex. Without using a dynamic URL, scalability can be a major challenge. Manually updating and managing a growing number of links can be a time-consuming and labor-intensive process, limiting your ability to effectively scale your campaigns and strategies.
BLINK PowerPages Key Benefits
Choosing your custom shortened URL with your brand name is easy with BLINK. With our platform, you can create memorable, branded short links that not only carry your brand's name but also convey the main message of the link. This feature makes your links easier to share and remember. Additionally, it enhances your brand visibility and trust among your audience. A custom URL with your brand name helps to assert your online presence, making your marketing campaigns more effective and driving more engagement with your content.
Creating your power page with BLINK is a straightforward and intuitive process. To start, you can select your preferred background and text colors to match your brand's aesthetic. Then, add your logo to make the page distinctly yours and update the header text to align with your brand's messaging. You can also add as many social media icons as you need, pointing directly to your brand's various profiles. This function allows you to centralize all your online platforms, giving your audience an easy way to explore and engage with your brand across different social media channels. So, take control of your online presence today by creating your personalized BLINK PowerPage.
With BLINK, you can effortlessly add your publishers and assign them access within the PowerPage settings. This feature enables seamless collaboration among your team, making it possible for multiple users to manage and update your content. Whether it's to add new links, update existing ones, or modify the design and layout of your power pages, your team can work in unison directly within the platform. This collaborative feature is designed to streamline your operations, ensuring that your power pages stay up-to-date, engaging, and reflective of your brand's dynamic nature.
With BLINK PowerPages, creating a visually compelling and content-rich page has never been easier. You can create or edit a link, enter a captivating headline, set your publishing dates, and choose an image for your block. This gives you the flexibility to showcase your brand's content in a visually engaging and structured manner. Whether it's a promotion, a new blog post, or an important company update, your image blocks can be customized to highlight your content effectively. This feature enhances the aesthetic appeal of your power pages and provides your audience with a more interactive and engaging experience.
Sharing your power pages with your audience has never been easier with our platform. With BLINK PowerPages, you can create a unique QR Code that directly leads to your power page when scanned. This provides an effortless way for your audience to access all your curated content in one place, enhancing their experience and interaction with your brand. Whether you're sharing it on social media, email newsletters, or print materials, your PowerPage QR Code offers a quick and easy gateway to your online presence. So, embrace the power of BLINK PowerPages today and take your audience engagement to the next level.

Our Customers Love Our Power Pages
"The Power Page tool from BLINK is a game-changer for anyone looking to enhance their online presence. The user-friendly interface makes it incredibly simple to create a centralized landing page, even if you're not a tech guru. Overall, BLINK's Power Page tool offers a holistic solution for modern branding needs, and I highly recommend it to anyone aiming to streamline and amplify their digital footprint."
Michael T.
Founder & CEO
Case Studies
BL.INK customers have amazing stories. We are honored to share some of their successes here.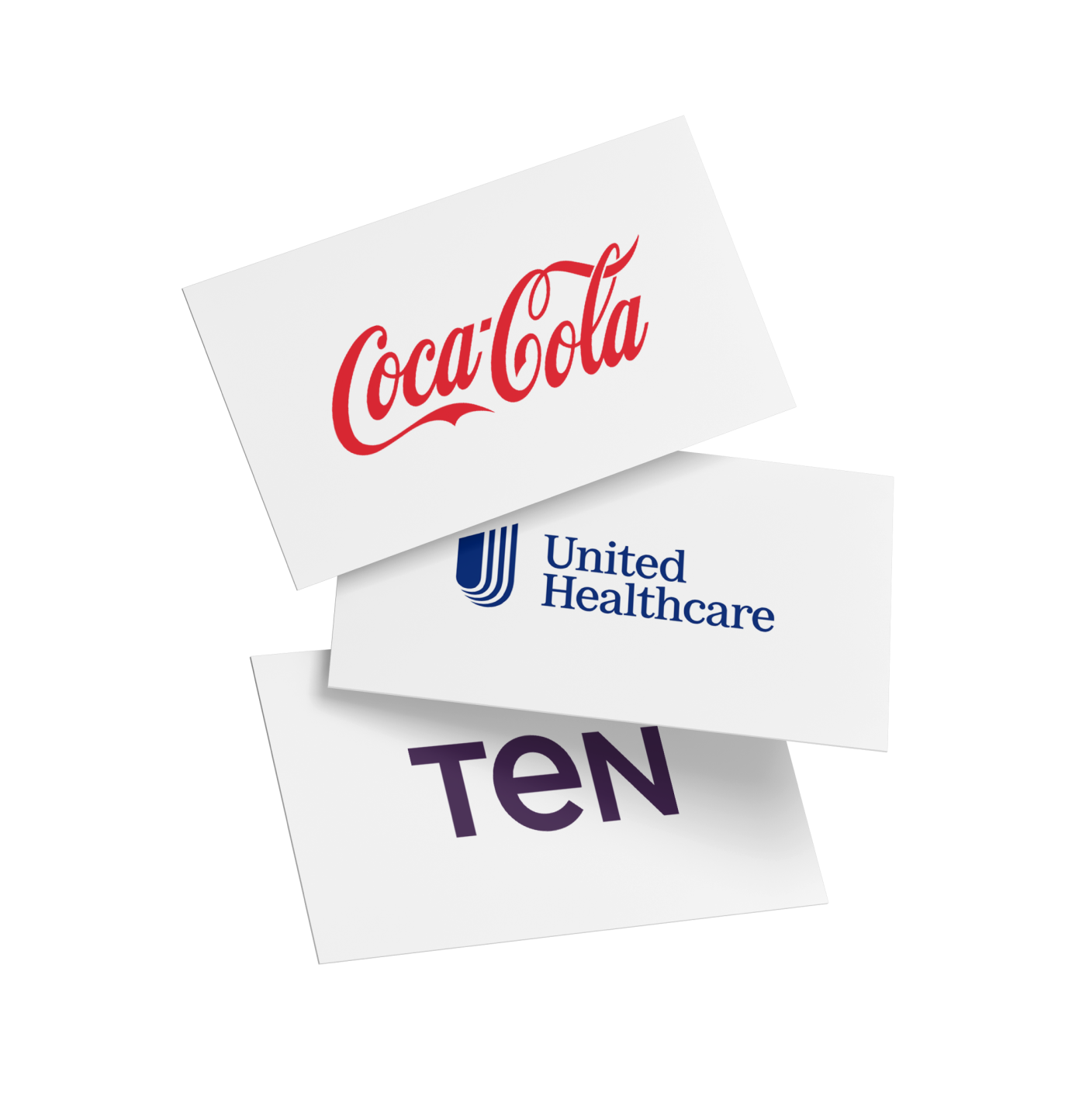 Let's Get Started!
Experience the next level of digital branding with BLINK PowerPages! Whether you're an entrepreneur, influencer, or business mogul, our platform is designed to elevate your online presence seamlessly. Dive into a realm where personalized URLs meet elegant landing pages integrated with your social links; all topped off with a nifty QR Code.