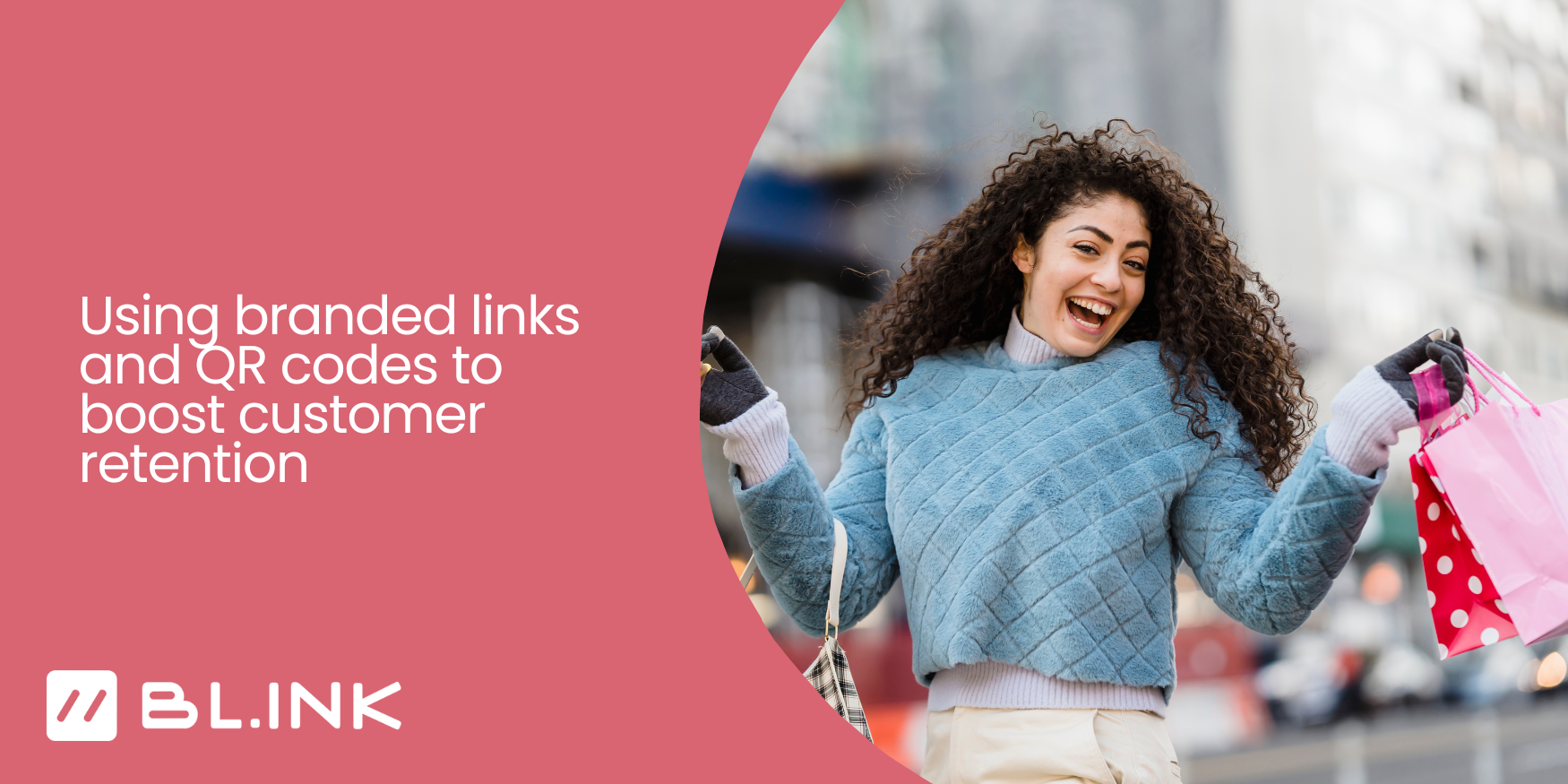 Using branded links and QR codes to boost customer retention
Strong customer retention and loyalty are the lifeblood of any business, but achieving loyalty today is no easy feat. With all the noise vying for your customer's attention in today's digital landscape, it's essential to have a strategy in place that will engage them and keep them coming back.
A great way to do just that is by leveraging branded links and QR codes as part of your customer loyalty program. Not only do they make joining your rewards system effortless, but they also add an extra layer of branding depth to both physical and digital assets! Read on to learn more about how you can start utilizing short links and QR codes within your existing loyalty programs –– and you'll be seeing results in no time!
Using branded links and QR codes in customer loyalty programs
QR codes (or Quick Response codes) are small, pixelated squares that customers can scan with their smartphones to access exclusive content or deals. They're often seen on product packaging or printed marketing materials.
Branded links, on the other hand, are shortened URLs that feature the brand name and related keywords instead of a random string of characters with a general domain. So rather than using a link that looks like: bit.ly/53fvDg, your branded short link will be something like brand.link/loyalty
Both QR codes and branded short links can be powerful tools when used for a customer loyalty program, as they allow businesses to track customer engagement and offer personalized rewards and incentives.
Imagine sending a targeted message with a QR code that leads to a special offer for customers who haven't visited your store in a while or creating branded links for social media posts that direct customers to a loyalty program sign-up page. Branded links and QR codes can elevate your loyalty program from a mere points system to a seamless and interactive customer experience.
Why should I use a QR code or short link for my customer loyalty program?
In the age of social media, making a brand impression can be challenging given how competitive the digital landscape has become. Retaining the attention of your customers is another feat. One way to solve these two issues is to use a branded short link or a QR code to capture your audience's attention. Branded short links assist in making a positive impression, and are proven to be more clickable. QR codes also provide a great customer experience with the ability to easily scan and access additional product information, nutrition information, or to see a specific product.
Using branded links and QR codes to power your loyalty program will not only help you build brand awareness but will also be an effective way to engage customers in an interactive and personalized way.
Additionally, when using a platform like BLINK, you can manage your short links and QR codes and track the engagement all under one central platform. BLINK can help you gain valuable insights into click or scan data to aid you in making strategy adjustments or hitting engagement goals.
Tips for creating effective short links
Creating effective short links can be a game-changer when it comes to sharing content online. Short links are not only convenient but also offer a more professional and polished look to your posts.
To ensure that your short links grab attention, it's essential to keep them concise and easy to read. Use a domain with your business or brand name to ensure that your audience trusts the link. Try to use real keywords that describe the content you are sharing and avoid cramming too much information into the link.
For loyalty programs, you could create link to a signup page that looks like this: brand.links/loyalty
This link gets all of the important information across and your customers know what to expect when they click on the link. It's branded, so they trust the source and are more likely to click through.
Consider approaching engaging existing loyalty members through SMS and personalized links. Send each customer a different short link to better track engagement. Whether they click on the link or not can help you decide how to follow up with them, based on their action.
It's crucial to monitor the performance of your short links to see which ones get the most clicks and engagement. By following these simple tips, you can create effective short links that click with your audience.
How to display QR codes to appeal to customers
QR codes are a fantastic way to boost engagement with your customers and promote your brand. But how do you ensure that your QR code stands out in a sea of marketing material?
The secret lies in how you present it. Consider incorporating your QR code into eye-catching graphics or images that align with your brand aesthetic. Always, always, always test your QR code before it goes to print. You want the experience for the customer to be seamless, and you don't want to risk wasting valuable resources or costs to re-print marketing materials.
Make sure it's large enough to be easily scanned and placed in an area where it can be easily accessed. In addition, consider adding a call-to-action that entices customers to scan the code. Whether it's to access exclusive content or participate in a special promotion – giving them a reason to scan is key. By following these tips, you'll be sure to create a QR code display that appeals to and engages your customers.
Benefits of tracking metrics with short links and QR codes
When it comes to tracking metrics for short links and QR codes, a platform like BLINK can make a huge difference in the efficiency of your operation. Not only does BLINK simplify the process of tracking clicks and interactions with your content, but they also provide valuable insights into user behavior and preferences.
With BLINK, you'll have an easier time keeping track of your marketing campaigns and improving your overall strategy. You'll feel confident that all of your campaign links and QR codes are hosted under one umbrella.
BLINK makes it incredibly easy to create, manage, and monitor your links. Collaboration within your department or with other departments is made simple with groups and shared links or tiered permissions to ensure that every user has the access they need when they need it.
Short links and QR codes can help you level up your marketing strategy, making them a must-have resource for anyone looking to optimize their digital presence.
Customer loyalty is better with BLINK
In this post, we discussed the benefits of utilizing short links and QR codes in customer loyalty programs. BLINK enables businesses to produce aesthetically pleasing and easy-to-manage links for their campaigns that encourage customers to keep coming back while providing valuable tracking metrics.
By taking into account the advantages and tips outlined in this blog post, you can create memorable links for your customer loyalty programs and foster a successful online presence with minimal effort. We'll work with you to ensure your links and QR codes stand out from competitors and draw significant attention.
So why wait? Let's link up.