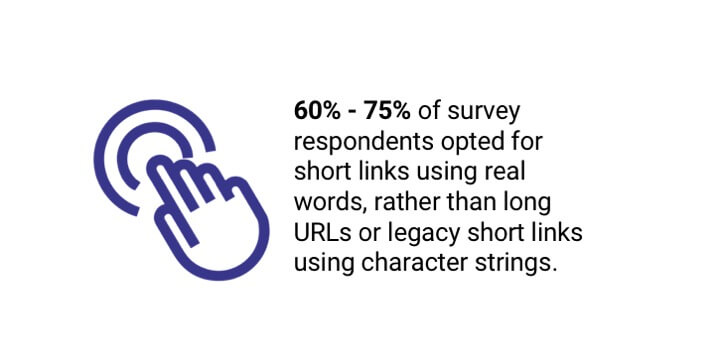 New Research Reveals Strong User Preferences for Short Links Using Real Words
Top Reasons Include: Clarity / Simplicity of Information,
Memorability, and Trustworthiness
Donuts Inc., the global leader in high-quality, new top-level Internet domains, announced the results of a third-party online survey assessing Internet link sharing and user preferences. The objectives of the survey, conducted by Sapio Research and commissioned by Donuts, were to assess user behaviors and compare their preferences for traditional long links, branded short links using real words, and legacy short links (primarily character-based).
A panel of more than 1,000 online respondents was presented with five different real-world scenarios that involved links. The scenarios included: viewing online ads and online shopping promotions, listening to a radio ad, creating and sharing a job posting, and planning a vacation online with friends. In each scenario, users were asked to select the link that was most preferable within that context, and indicate the primary reason for their choice (easy to remember, clear and informative, or trustworthy).
The responses were definitive, both by scenario and in aggregate: users overwhelmingly preferred short links using real words. Regardless of the scenario, between 60% – 75% of respondents chose short links with real words, rather than the alternatives. Surprisingly, 90% of all respondents preferred either short links using real words or traditional long links; only 10% of respondents selected legacy short links using character strings.
"In today's world, when someone has a nanosecond to click or move on, the message value of that link is all-important," said John Pollard, executive vice president of Donuts registry. "These survey responses confirm that short links using real words provide a crucial means for businesses to connect to their target audiences. When links contain real words, they drive more clicks and greater engagement. It's just that simple."
The survey was conducted in order to provide insights and fact-based findings related to short link usage and behaviors, in conjunction with the launch of BL.INK, a branded short link service, formerly known as BudURL. While hundreds of millions of links are created and shared every month, there is a paucity of third-party research regarding the quality of those links, and which kinds of links drive greater user engagement. Donuts and BL.INK are committed to ongoing link market research and analysis, and to disclosing these findings to industry participants.

Check out 10 smart ways our customers use branded short URLs to boost their business.

About Donuts
Donuts simplifies and connects a fragmented online world with domain names and related technologies that allow people and businesses to build, market, and own their digital identities. Donuts holds the world's largest portfolio of new top-level domains, and offers a wide variety of clear and meaningful names for use as business identifiers (such as .ltd, .company), navigation (such as .careers, .support), in vertical markets (such as .photography, .cafe, or .builders) or in broad-based generics (such as .life, .world or .live). Donuts provides its registrar/reseller customers with innovative services for the discovery, registration, usage, and monetization of high-quality domain names. A wholly-owned subsidiary of Donuts, the registrar Name.com is one of the most admired brands in the industry. In 2017, Donuts was named Number 1 in the Deloitte Fast 500. Donuts' headquarters are in Kirkland, WA; it has offices in Denver, CO; Austin, Tx; Washington, DC; Dublin, Ireland and Beijing, China.
About BL.INK
BL.INK Global LLC, part of the Donuts Inc. family of companies, is a leading link management platform, ideal for people and businesses of all sizes who want to connect more effectively with their target audiences. With BL.INK, our customers can create custom short links using real words to convey memorable, meaningful messages and brand impressions. We founded BL.INK in 2008, because we believed that simplicity should also mean power, sophistication, and flexibility. We're always adding new features to help our customers thrive in a quickly changing world. In 2017, we were acquired by Donuts Inc., the largest new top-level domain name registry in the world. Together, we're passionate about fueling customers' ingenuity, and we've got the track record, resources, and moxie to deliver.

About Sapio Research
Sapio Research is a global market research consultancy. Our entrepreneurial spirit and wealth of experience help our clients tackle business and consumer (strategic or content) market research with knowledgeable, innovative thinking. Managing partners Guy Washer and Jane Hales previously founded Redshift Research – a company with an excellent reputation for customer service, which was short-listed for the Research Awards 'Best New Agency' in 2008, and Kent Excellence in Business Best Place to Work 2011. The Sapio team are creative, evidence-based problem solvers who pinpoint the issues and use good sense to solve them.