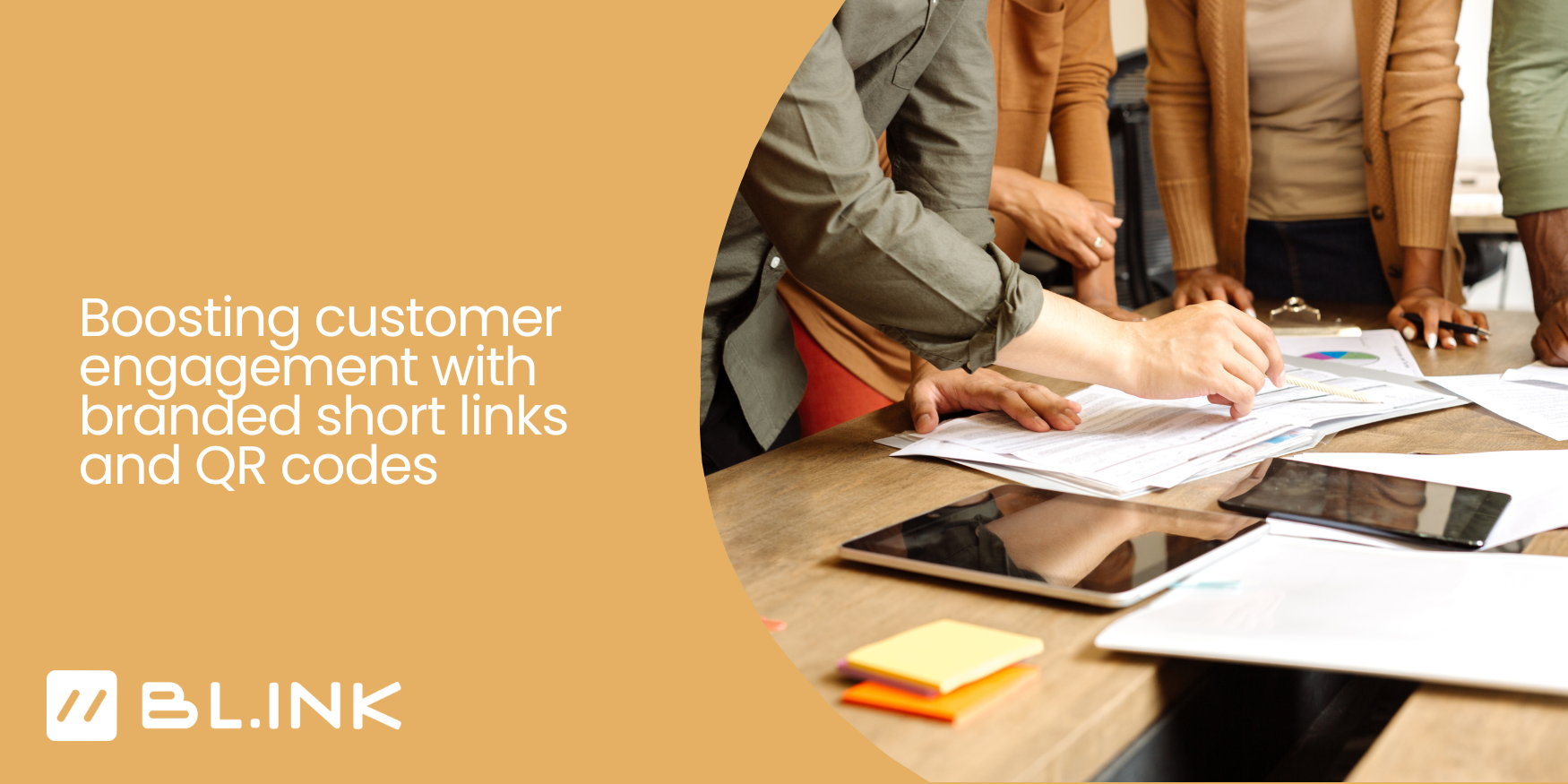 Boosting customer engagement with branded short links and QR codes
As marketers, we're always looking for ways to increase customer engagement and drive conversions. Plus, the trends of mobile commerce and digital marketing are only rising – which means it's even more important than ever to make sure you have strategies in place that cater directly to this growing shift in consumers' preferences. One way is through branded short links and QR codes. These pieces of a marketing strategy can often be daunting or seem scary — after all, some people don't know how or why they should use them!
But fear not; with the right workflow and some helpful background information about these tools, you'll be able to make them work for your business before you can blink an eye (see what we did there? 😉). Read on to learn the advantages of using branded links in conjunction with QR codes over plain URLs so that you can utilize both easily (and effectively).
What are branded short links and QR codes?
Have you ever clicked on a link that seemed too long and complicated to remember? Or have you ever come across a link that looked suspicious with many characters that didn't mean much to you as a customer? This is where branded short links come in!
Branded short links and QR codes are an excellent way for businesses to improve customer engagement. Branded short links are shortened URLs that contain the brand name of the business. So for example, our brand is BLINK, and we use bl.ink as our branded domain. Our short links look something like bl.ink/clickhere.
Not only are short links more appealing and recognizable but they also give customers a sense of trust and security. They have proven to be more clickable and can contain all of the tracking information without having to paste the full, unsightly long URL in your social media posts or an SMS message, for example.
QR codes are another useful tool that allows customers to scan a code and immediately access relevant information, like a website or a product page. Because BLINK QR codes are associated with the short link, they allow you to track the engagement, dive deeper into customer insights, and the destinations are always editable. Plus, they create a seamless customer experience with every single scan.
By implementing these tools, businesses can make it easier for customers to engage with their brand, build customer loyalty, and ultimately drive more traffic and sales.
The importance of choosing the right branded domain for your business
Choosing the right branded short domain is crucial to the success of your business. It's not just a matter of having a catchy domain name or logo, but rather it's about creating a link that is easy to remember, share, and promote.
A well-crafted branded short link can help establish your brand identity and can also improve your SEO ranking, which translates to more web traffic and potential customers.
Additionally, choosing the wrong branded short link could lead to confusion, misdirection, and even loss of credibility. At BLINK, we can help you create the perfect branded short link for your business needs. We'll help you to decide on the perfect branded domain to meet your existing branding guidelines. In turn, your links will be short, shareable, recognizable, and clickable.
Don't underestimate the power of a well-placed link, as it could be the difference between success and a flop in today's highly competitive digital landscape.
Tips on making effective use of QR codes to increase customer engagement
QR codes have become an increasingly popular tool for businesses looking to increase customer engagement, but not everyone knows how to make the most of them. Here are some helpful tips to help you effectively use QR codes for your brand.
First, make sure to choose the right QR code generation platform. Some things to consider:
Are your QR code destinations permanent or can they be edited at a later time? With BLINK, everything is editable, and you'll have full control over the QR code destination.
Is the platform flexible and sustainable as your brand grows? BLINK was built for enterprise. Our goal is to grow with you as your use cases and needs evolve. As your partner in digital marketing efforts, we will scale and grow with you.
Is your data theirs or yours? With BLINK, your data is yours. Period.
When creating QR codes, it's important to consider other factors as well. Test every single QR code created before sending it to print. You'll want to make sure that the code is scannable by testing it on different devices and in different lighting conditions.
You should also consider placing the code in a location that's easily visible and accessible to your customers. Additionally, make sure the code leads to something valuable, such as a discount, promotion, or exclusive content. And if you expect that content may change, make sure you have a plan in place to update the QR code with the relevant information later down the line.
Lastly, use analytics to track the success of your QR codes and adjust your strategy accordingly. With these tips, you'll be on your way to using QR codes to their full potential and engaging with your customers in new and exciting ways.
How to create branded short links with a few clicks
Short links are a great way to share content on social media or in SMS campaigns and make it easy for people to access. But, what if you could also make those links visually appealing, and more easily recognizable as being from your brand?
With just a few clicks, you can create branded, trackable short links that stand out and make a lasting impression. Using a link shortener service like BLINK, you can easily customize your links with your brand name and a custom hash or slug -- which we call a "keyword". So you can take your links from www.yourcompanyname.com/longURLwithlotsoftrackingcodes... to something more like cmpny.link/keyword
These links draw users in, rather than scaring them away. Additionally, you can track click activity directly in BLINK or connect BLINK with your current analytics software to gain deeper insights to create the perfect link every time. Our URLBuilder helps to maintain accuracy and consistency across teams, departments, and brands and helps to ensure that your links are tracking the right details and that the variables are all contained within your short link.
Branded links help to increase brand recognition and also make your links more trustworthy and clickable. So, why settle for generic-looking short links when you can create ones that are uniquely branded and eye-catching?
Best practices for using branded short links in campaigns and promotions
Branded short links can help spruce up your marketing campaigns and promotions. By creating custom links with your brand name, you not only make them memorable and easy to share, but you also establish credibility and trust with your audience.
Branded short links also allow you to track and analyze click-through rates, giving you valuable insights into the success of your campaigns. People tend to prefer links with real words -- this helps them understand where the link might be taking them, and trust that they're being led to a safe, and reliable source.
Centering campaigns around a branded short link, whether they are SMS or social media, can help boost your conversions both with new and existing customers. Since your customer will trust the link, and understand what to expect on the other side of the link, they're much more likely to click through.
Better links with BLINK
In conclusion, branded short links and QR codes are essential components for boosting customer engagement as they create direct pathways for customers to access all their content with a simple scan or click. But how you use them matters just as much, so pay attention when choosing the right branded short domain for your business, designing effective QR codes, and using branded short links in campaigns and promotions.
And remember – with BLINK, it's easier than ever to create effective, trackable, branded short links and QR codes in just a few clicks!
Want to learn more? Let's connect.