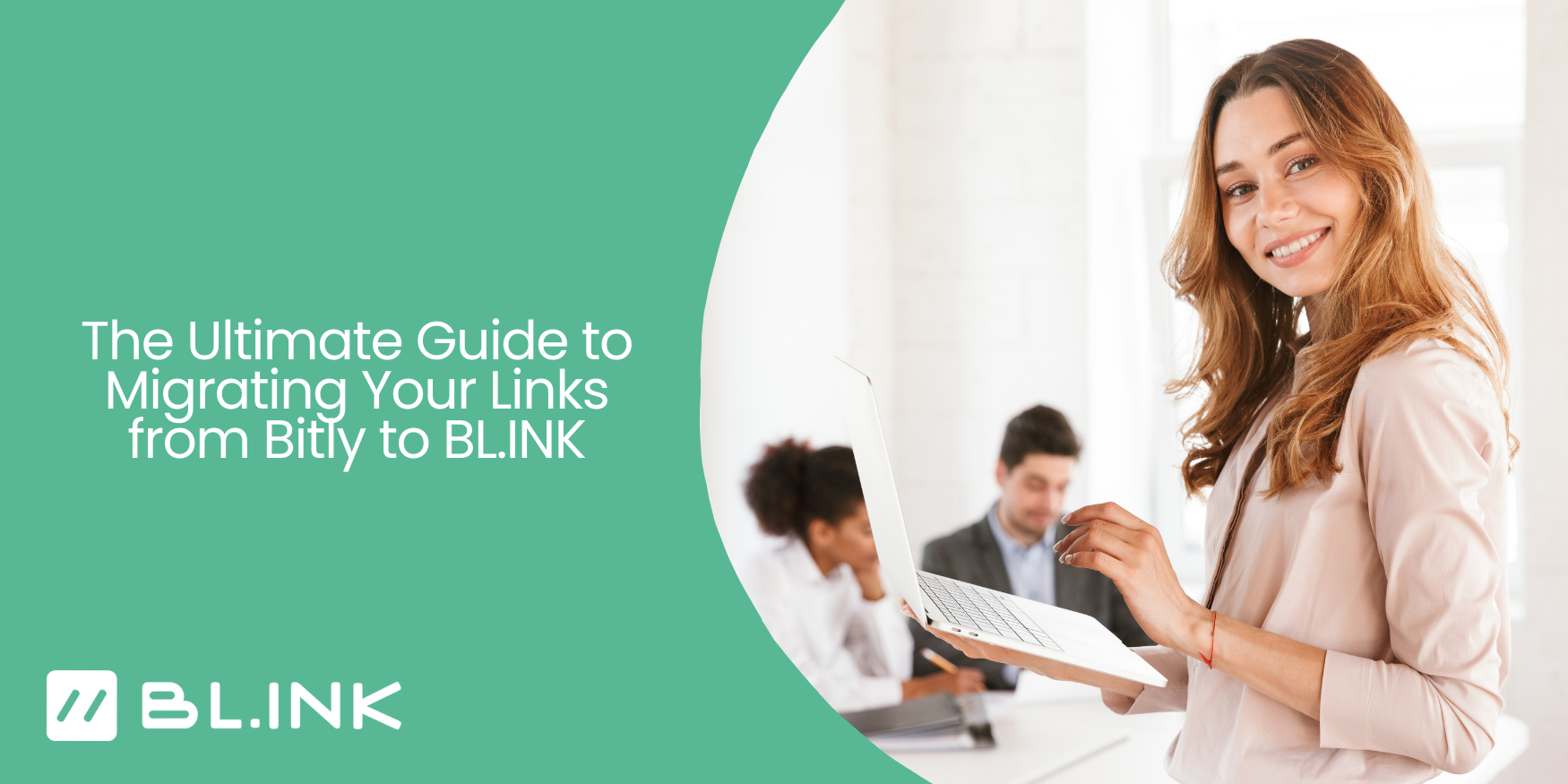 The Ultimate Guide to Migrating Your Links from Bitly to BL.INK
Are you looking for a Bitly alternative? If so, you've come to the right place! BL.INK is a URL shortener that offers many of the same features as Bitly, but with some important differences. In this blog post, we will discuss the process of migrating your links from Bitly to BL.INK. We will also cover some of the benefits of using BL.INK over Bitly. So if you're considering making the switch, keep reading!
What is URL shortening?
URL shortening tools and services create short links for websites, social media posts, and other online content. Branded link shortening enables users to create short links using a custom domain. This helps build trust with your audience, and create more clickable links, while still maintaining tracking parameters and your branding guidelines.
Bitly is just one of many different URL shorteners, but there are many alternatives on the market today. One such alternative is BL.INK.
Benefits of migrating to BL.INK
BL.INK offers several advantages over Bitly, including more flexibility and customization options across all of our plans, and expanded analytics and integration options.
BL.INK offers more flexibility and customization options across all plans
BL.INK allows you to add custom domains so that your links are using your branding -- not ours. Additionally, BL.INK allows you to edit the keyword or slug in your links (the string of characters that comes after the / in your short link). For example, you can create links like yourbrand.links/holiday sale rather than utilizing a generic Bitly branded link like bit.ly/dGe53. Branded and customized links have proven to be more clickable.
Enterprise plans are customized to fit your business needs
At BL.INK, we offer Enterprise add-on modules so that you can choose the features you need. We tailor your plan to your business to ensure you have what you need to work more efficiently, collaborate more effectively, and create the best possible short links.
Expanded analytics and options for integrations with third-party tools
BL.INK's robust analytics can give you the insights you need in real time so that you can monitor campaign performance immediately. We also offer integrations with many different analytics tools, so that you can get access to more in-depth analytics with the tools already in your stack.
Your data is yours. Period.
At BL.INK, we'll never delete your link data. We keep your clicks as long as your links are active, and we won't delete a click unless you ask us to. We also believe that only you should be able to access your click data. BL.INK will never publish or share your click data, and it can only be accessed with a valid account login to your organization.
Everything is editable
We'll say that again. Everything is editable in BL.INK. Need to edit your link's destination? With BL.INK, you can. Want to add a tag for better organization or reporting? With BL.INK, you can. Need to transfer your link to another user in your account? With BL.INK, you can.
How to migrate your links from Bitly to BL.INK
BL.INK has two methods available for migrating short links from other platforms. While both methods are relatively simple, the most difficult step of the process can be obtaining an export of existing link data from the current platform. Some platforms make it easier than others, and the process is different for each.
When migrating from Bitly, you must first obtain an export file. BL.INK will assist in any way possible so users can obtain the short link data. Once the data is obtained, the migration can begin.
With the export file, you may add the links directly to your BL.INK account using our import process. Our help article on importing links includes a sample file and formatting instructions.
Once the import is complete, you may switch the DNS to point to BL.INK, and your link traffic will begin flowing through BL.INK within 24 hours. There should be very little downtime if any.
If you are unable to obtain a file from your current provider, BL.INK can assist in setting up our auto migration protocol, which is a unique functionality that will import the existing links in real-time from the current account. The auto-migration will import the links into BL.INK as they are clicked.
The auto migration is fast and easy -- you do not have to obtain an export file to set it up, and your links will be migrated to BL.INK without issue. Our auto migration is not just limited to Bitly -- it can be used with a number of other short link providers.
You should never feel stuck with your current provider - there are always options. If you do, explore the options and see what it feels like to free your data. For more information, please reach out to our support team.
How long should the migration process take?
This depends on whether you're able to obtain an export. If you can obtain an export from your previous provider, the transition is pretty quick. Once the links have been imported and the DNS has been pointed to BL.INK, you'll see clicks start rolling in. DNS propagation can take up to 24 hours, but usually, it's much faster.
The auto migration takes a bit longer for the links to carry over since they rely on clicks to be added to BL.INK. However, for your audience, the experience will be seamless. With the BL.INK auto migration, the links are moved over automatically, and your customers will not run into any dead-end links. We'll have this process running automatically for some time.
And that's it! You can immediately access your dashboard and your click data or make updates to your links. If you have integrations or automated workflows set up, please contact us ahead of starting the migration to ensure there's no downtime.
Once the migration has been completed, we encourage you to check out our video walk-throughs or read a few of our support articles to help you get familiar with BL.INK.
Migrating short links from Bitly to BL.INK is easier than you might think - and we're here to help. By following the steps in this guide, you can have all of your links migrated over in no time. And if you need any help along the way, our team is just a click away.
Have questions? Let's link up.