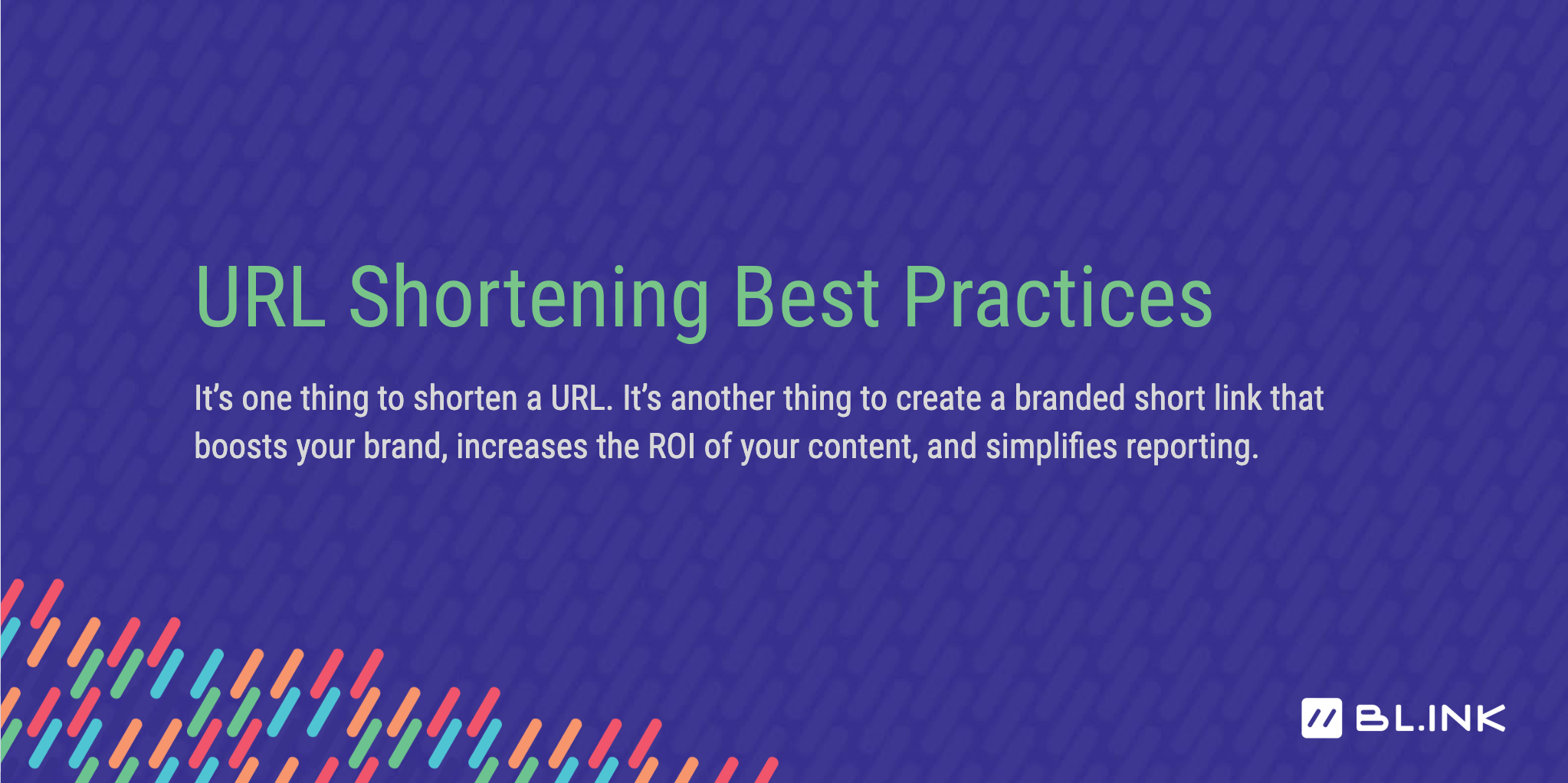 URL Shortening Best Practices
It's one thing to shorten a URL. It's another thing to create a branded short link that boosts your brand, increases the ROI of your content, and simplifies reporting.
Here's a list of 10 smart ways our customers use branded short URLs to boost their business.
1. Create short links using a branded domain
Most link shorteners create short links with their own brand name as the foundation. Why would you want your links to promote the service you used to shorten them? Instead, put your own brand in the spotlight. It's the best of both worlds—you get a short link AND a brand impression of your own brand.
For example, instead of promoting a big retail event with something like www.bit.ly/abcxyz, Patagonia used www.pat.ag/fallsale. State Farm uses www.statefarm.gives for their community involvement program. See even more examples of branded short URLs.
Using a branded URL composed of meaningful words instead of random character strings creates the opportunity to say something about your brand and your content, right in the URL itself. That means your audience knows who owns the content and what they'll get when they click. The increase in trust has been proven to contribute to a higher clickthrough rate. Read more about the research findings or check out the infographic for more stats.
2. Customize every part of the link
Creating your branded domain is the first step in creating short links that promote your brand. But you can get even more specific and creative by customizing the part that comes after the "/" — in industry lingo, that's called the "slug" or the "keyword."
In the example above (sfrer.co/XcelDrylockX), the branded domain is srfer.co, and the customized keyword is XcelDrylockX. If there were multiple individual product lines in this promotion, you might also see links such as sfrer.co/boards, sfrer.co/womensgear, or sfrer.co/proshop. Because every part of the link is customizable, you can use the same branded domain as a base for multiple URLs, each with its own unique message, product, category, or department.
Now you can create groups of links to represent a campaign for extra clarity for your customers. Your internal team will thank you, too, because it's easier to categorize and report on campaign analytics when they can quickly identify link groups.
3. Use short links for your social profiles
When it comes to social media profiles, every character counts. You have a very small space to convey your brand and what you're all about.
Branded short URLs are the perfect way to grow social engagement while sharing a message and promoting your brand. Because they use real words and can include your brand name or a promotional message, they stand out, they're memorable, and they give your profile even more personality.
On the technical side, many of our customers love using branded BL.INK links in their profile because it's easy to keep the link the same but swap out the destination page where the link redirects. It just a quick swap within the BL.INK platform to redirect a static URL to the latest promo, landing page, or campaign page without having to manually create and update the links in each profile every time you want to change what you're promoting.
For Instagram profiles, your #LinkInBio link stays the same, while you redirect it to different pages on your website as your campaigns change. Learn more tips on using links to grow your social media engagement.
4. Use short links for radio and podcasts
When podcasters or radio DJs say a URL and a call to visit (CTV), they're inadvertently asking the impossible—for listeners to understand and remember the URL. That's because most URLs are long, complex, forgettable strings of alphanumerics. So, drive traffic from audio sources and maximize your podcast marketing using a link that's short and uses real words. For example, www.mypodcast.com/episodes/episode24/long-episode-name becomes something like: podcast.link/episode24.
Another issue with traditional URLs is that it's hard to track the podcast or a radio ad as a referral source. However, if you set up a BL.INK link for each audio promotion, you'll instantly be able to see who visited your site from each source. Maybe your radio ad urges listeners to go to company.sale/radio while your Facebook Live video sends viewers to the same sales page using company.sale/facebook. Now you can see audio sources are most effectively reaching your target audience and sending you the most traffic. Plus, you can count those metrics along with your other analytics for more accurate, comprehensive reporting.
Once you've published the podcast or kicked off your radio ad campaign, you can swap the destination URL any time. For example, if you're promoting an event on a podcast after the event registration closes you can redirect the URL to a related article or your home page. This is great for time-bound campaigns since you can't easily retract a link someone said in a podcast.
5. Use short links in print
In some ways, print pieces up the ante for choosing the right URL. To visit your site after seeing something in print, the customer has to remember the URL they saw and then type it into a browser later by hand. In order to get any ROI from those ads (beyond awareness, which is hard to measure), the URL needs to be short, simple, and easy to remember.
Your marketing team has its own challenges with print URLs. First, it's hard to track referral traffic from print pieces, so it's hard to know how effective those pieces actually were. Read How to Measure the Performance of Print Marketing for some practical tips.
Second, once the URL is out in the wide, wide world, it's permanent. When your campaign changes or you have other updates, you can't quickly remove the URL the way you can on your website. But if you've used a BL.INK link on your printed pieces, you can redirect that URL to another, more relevant page.
6. Validate data from other sources with short link data
When you're publishing short links across your website, partner websites, ads, and various social platforms, you're receiving reporting from each of those places, calculated using different algorithms and methodology.
Creating your links with BL.INK means you have a consistent platform where you can track and measure your links—and a consistent reporting method. That way, you can be confident that your counts are consistent, especially when you're comparing performance across different platforms. Everything is being measured the same way.
This is especially important when you're measuring the ROI of paid placements on social channels or paid search. Don't rely on the reporting of the ad platform—capture and validate those numbers yourself.
It's also helpful in getting consistent, accurate referrer data, whether or not you use Google Analytics.
7. Get the full benefits of UTM tracking codes
UTM codes are a marketing must, but they make for some unwieldy, cringe-worthy URLs. Not only that, but your UTM codes themselves are giving customers and competitors insights into your segmenting and tracking strategy.
When you build UTM codes through BL.INK, your links are shortened automatically, so you can cut out the extra step of copying and pasting your long URL into a separate tool to shorten it. Your UTM codes stay private, and so does your data. So you still get all the data-rich benefits of tracking referral sources but in a tidier, more private way. See How to Use UTM Codes for an in-depth look at how this works in BL.INK.
Use BL.INK's conversion tracking feature in tandem with UTM codes to reveal ROI without extra number crunching. For example, each time someone clicks on your Facebook ad for a pair of running shoes and then purchases the shoes on your landing page, we'll show you ROI immediately in the universal language of $. It's the easiest way to see which links are making you the most money.
8. Use short links with influencers
How do you know whether your influencer marketing is worth the investment? Or which influencers are getting the best results?
Use BL.INK to create a different short link for each influencer so you can track their reach and ROI separately. Each influencer gets a personalized link, and you get transparency into how their efforts are affecting your business.
For example, when we launched BL.INK, we gave our team of advisors short links to share with their audiences, such as https://blinkglobal.wpengine.com/Ian, https://blinkglobal.wpengine.com/Stephanie, and https://blinkglobal.wpengine.com/Joel. The transparency gives them ownership of their activity and results, and you can measure the ROI on your influencer marketing, giving you a better sense of which relationships are the most valuable so you can create a strong influencer marketing strategy.
9. Use short links for paid ads
Any marketing is an investment, but when you're paying for ads, it's even more important to get the best ROI possible. Since clickthroughs are a big part of ROI, it's worth creating URLs in the format that's been shown to drive the most clicks.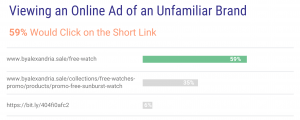 In this study, users said they preferred the link with real words because the link itself gave information about where they were going when they clicked. View a summary of the results and learn how to use BL.INK to increase the ROI of your Facebook ads.
Beyond driving the most clicks, in most cases, you're relying on the ad platform's reporting to determine your ROI. Similar to the data validation we talked about in #6 above, BL.INK provides a transparent, consistent means to gather and report analytics so that you avoid discrepancies in the way each individual platform reports its data.
10. Brand your campaigns with custom short links
Every time someone sees one of your URLs, it's a brand impression—whether or not you use it to your advantage. Creating short links with legacy shorteners gives your audience a brand impression for Bitly or TinyURL, not your brand. And yet, coming back to the discussion from #1 above, it's easy to use BL.INK to create short URLs that give a brand impression for YOUR brand, on your own domain.
This opens up a world of possibilities. Now you can create links that convey a message using domains for different products, departments, or campaigns. For example, instead of sending job applicants to www.bit.ly/abcxyz, you could send them to www.practica.careers. Or instead of driving traffic to a landing page using a generic URL, you can create a URL that reinforces the campaign message.
Once the links are live, it's easy to use BL.INK's built-in analytics capabilities to track campaign results in real-time or optimize on the fly.
Now that you've seen some of the most creative and valuable ways to use branded short links, it's easy to get started.