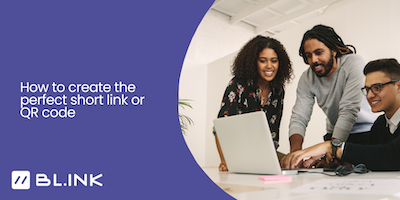 How to create the perfect short link or QR code
When it comes to digital marketing and online communication, the significance of short links and QR codes cannot be overstated. These tools not only streamline the user experience but also provide invaluable data for businesses to analyze and optimize their marketing strategies. In this guide, we will walk you through the process of creating the perfect short link or QR code with BLINK, making it a breeze for you to capture your audience's attention and foster engagement. So, buckle up and prepare to elevate your digital marketing game to new heights!
How to choose the right URL shortening or QR code generation service
When selecting the ideal URL shortening or QR code generation service, it's essential to first identify your goals and objectives. Are you looking to increase brand visibility, track consumer behavior, or simplify sharing across multiple platforms? By defining your goals, you'll have a clearer understanding of what you need from the service and can make an informed decision to ensure it aligns with your desired outcomes.
Next, consider your specific pain points and how they might be alleviated by the right tool. Take into account your internal departments and how they work together to ensure you're choosing a platform that fits with your internal structures.
It's crucial to select a service that integrates well with your existing processes and adheres to your company's security standards. By doing so, you'll minimize any potential risks, ensure seamless implementation, and ultimately, maximize the benefits of using a URL shortening or QR code generation service.
These are just a few things to consider as you start your search for the right link shortening tool and QR code generator.
Why BLINK?
Finding the right tool can be overwhelming, but at BLINK, we prioritize early conversations to help you make the right choice. Here are a few of the reasons that our clients trusted BLINK with their short links and QR codes.
Easily manage all campaign links and QR codes
BLINK offers a comprehensive solution by bringing all aspects of your campaigns under one umbrella – from creating and maintaining links and QR codes to analyzing campaign results. With our easy-to-use platform, you can bid adieu to juggling multiple tools and streamline your marketing efforts with ease.
In-depth tracking and actionable insights
With trackable links and QR codes, BLINK empowers you to make data-driven decisions for your campaigns. Our platform provides actionable insights to help you fine-tune your marketing efforts and build more effective campaigns. By leveraging these insights, you can identify trends and patterns that drive engagement and optimize your strategies for maximum impact.
Take your tracking capabilities even further with our URLBuilder. Feed tracking data directly into your existing analytics tools, and use the BLINK URLBuilder to standardize your UTM parameters, allowing your marketing teams to create the perfect link in just a few clicks. Read more about our URLBuilder here.
User-friendly interface and enhanced collaboration
BLINK's user-friendly interface ensures that members of your team can quickly learn and utilize the platform's features without any hassle. Our platform is designed to enhance collaboration among team members, making it easier than ever to work together on campaigns and share insights. With BLINK, you can create a seamless workflow that keeps your team in sync and maximizes productivity.
With BLINK for Enterprise, you can create groups with team members to share link ownership, have visibility into campaign analytics, and collaborate on updates as needed. Additionally, we offer tiered permissions to ensure that everyone has the access they need when they need it.
Flexible and Scalable Solutions
At BLINK, we understand that your business and goals will evolve over time. That's why our solutions are designed to be flexible and scalable, growing with your needs and adapting to your changing circumstances. As your campaigns expand, BLINK's platform will continue to provide the support and functionality you require, ensuring long-term success.
Creating your perfect short link or QR code
Creating the perfect short link or QR code can be easy. Using BLINK's intuitive platform and user-friendly tools, the perfect link is just a few clicks away. Customization is key in making your short links and QR codes resonate with your target audience, and BLINK allows you to match your existing brand guidelines effortlessly with branded domains, hashes or keywords that use real words, and customizable QR code templates for Enterprise. At BLINK, we aim to promote your brand -- not ours, so we help to ensure consistency in your branding and create a seamless experience for your users.
The BLINK URLBuilder is another valuable tool for creating short links with pre-defined UTM parameters, providing uniformity across your marketing campaigns. Consistent links not only streamline your tracking efforts but also lend a professional touch to your materials.
One of the standout features of BLINK is the ability to edit the destination of your short links and QR codes quickly and easily. This offers you the flexibility to make changes on the fly, ensuring that your campaigns remain relevant and effective.
In addition, our dynamic links feature allows you to route your audience to the appropriate destination based on pre-set rules. So for example, if you have audiences in France, Japan, and Spain, you can create ONE link that routes to the correct destination based on a user's location. We also offer rules for language, day, date, time, and device. The possibilities are endless for dynamic links.
By leveraging the robust features and tools provided by BLINK, you can create the perfect short link and QR code time and time again. Elevate your marketing campaigns with customized, trackable, and data-driven solutions designed to help your business grow and succeed.
Monitoring the performance of short links and QR codes
So now that you've created the perfect link, what comes after the click? In today's fast-paced digital landscape, tracking the performance of your short links and QR codes is essential for understanding your audience's behavior and optimizing your marketing strategies. BLINK's analytics platform offers real-time monitoring, allowing you to keep a close eye on the performance of your campaigns and make well-informed adjustments.
Our platform provides metrics such as clicks or scans, unique visitors, device, location, and referrers for your short links and QR codes. This comprehensive data equips you with the insights needed to evaluate the effectiveness of your campaigns and identify areas that require improvement. By closely monitoring the performance metrics, you can make data-driven decisions to enhance your marketing outcomes and ensure a higher return on investment.
BLINK's analytics dashboard presents the data in an easily digestible format, ensuring that your team can quickly comprehend the performance metrics and make timely adjustments. The platform's ability to integrate with other analytics tools further enhances your tracking capabilities, providing you with a holistic view of your marketing efforts and empowering you to make well-rounded decisions.
By leveraging BLINK's robust tracking features, you can stay ahead of the curve and continuously optimize your short links and QR codes to drive better engagement, conversions, and overall success in your marketing campaigns.
BLINK is the all-in-one solution for creating, managing, and optimizing short links and QR codes
In conclusion, BLINK offers a comprehensive platform for creating, managing, and optimizing short links and QR codes, while providing in-depth tracking and actionable insights to enhance your marketing campaigns. With its user-friendly interface, enhanced collaboration features, and flexible, scalable solutions, BLINK is the ideal choice for businesses looking to improve their marketing strategies and drive success. Experience the power of BLINK and elevate your marketing efforts to new heights, harnessing the potential of data-driven decisions and customized short links and QR codes.
Want to learn more about how your links could be better with BLINK? Let's link up.