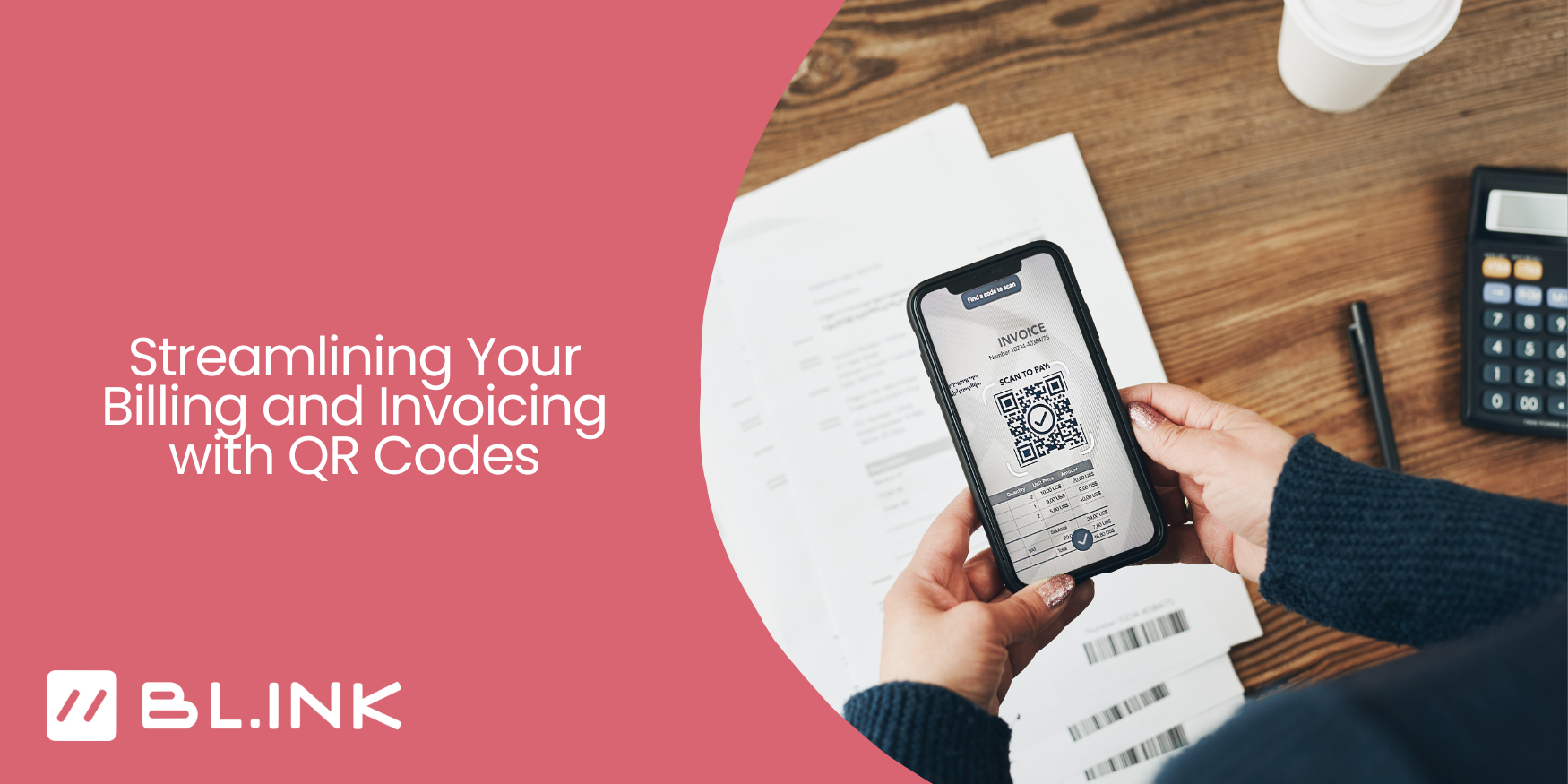 Streamlining Your Billing and Invoicing with QR Codes
Are you looking for a way to streamline your billing and invoicing process? If so, you may want to consider using QR codes. QR codes can be used in your invoices and bills to your customers to help speed up the payment process and enhance the overall customer experience. In addition, QR codes can also be used to track payments and ensure that they are received promptly. This can all help to save you time and money in the long run.
Using QR codes for billing and invoicing
Technology has made it possible for businesses to easily and quickly send out invoices and bills with QR codes. QR code generators, like BLINK, can help you create QR codes in bulk for all of your invoicing needs. It's a highly efficient way to track customer payments with the QR code analytics built into BLINK. Enterprise brands can also connect existing analytics platforms for more insights into customer behavior beyond the scan.
For the younger generations, gone are the days of mailing checks and manually typing in URLs to the browser. QR codes streamline the billing process, making it even easier for customers to pay their bills and for businesses to keep track of payments in one place. Adopting QR codes into your existing processes can help you get ahead of the game when it's time to collect payments.
Speed up the billing process while still keeping the customer experience top of mind
Customer experience is everything when it comes to retention. A customer experience-centric billing process relies on QR codes to streamline the payment process. By integrating QR codes into your customer's bills and invoices, you can provide an easy way for them to scan and make payments with only a few clicks. This makes for a happy customer.
Using QR codes in bills means customers no longer need to manually enter long URLs into a browser or remember their invoice number, making it easier and faster for them to settle their bills. A QR code scanner is built right into camera apps on most mobile devices, so customers don't need to worry about searching through cluttered paperwork or long website forms. They only have to press one button and they're ready to pay!
In short, by incorporating QR codes into customer bills and invoices you can create a hassle-free customer experience that encourages efficiency and convenience when it comes time for customers to pay.
Best practices for creating effective QR code billing campaigns
Are you getting ready to make the jump to using QR codes in your billing campaigns? There are a few tips for creating a successful experience for customers.
First, bulk-generate QR codes to get the job done faster. Bulk QR code generation with the BLINK API makes the process a breeze. With the BLINK API, QR codes can be created at scale automatically.
Brands also have the option to create QR codes that automatically expire. This saves room for more QR codes to be created and prevents a link from being accessed once the expiration date has passed.
Second, consider creating custom QR codes that match your existing branding guidelines. This helps the customer to feel secure about scanning your QR code and entering their sensitive billing information.
Finally, make sure the actual landing page after scanning the code is informative and useful and that there are no dead links or out-of-date information. BLINK's QR codes are connected to a short link, which allows brands to control the destination without breaking the QR code. Make a mistake in generating the QR code? Simply update the destination, and the QR code will redirect to the new destination immediately.
Examples of effective QR code billing campaigns
Let's look at a few examples of successful QR code billing campaigns. After you leave the doctor's office, you receive a paper bill in the mail. The bill includes a QR code that redirects to your doctor's payment portal. When the page loads, your invoice number has already been entered, the payment due is clear, and all you have to do is enter your card information (if it hasn't been previously saved!). You're done paying your bill in no time, and you didn't have to sit down and type in a URL, or write a check and mail it back.
QR codes can be used by other businesses as well. Think of your cable or internet bill. You receive the bill, and simply scan the code on your smartphone's camera app to review and complete your payment.
Alternatively, you could use a QR code as an opportunity to gauge customer sentiment, by redirecting your customers to a feedback survey. The possibilities are truly endless.
Try using QR codes for your billing process
As a business, streamlining your billing process helps you be more efficient and profitable. A great way to make this easier is to try using QR codes on your bills and invoices.
Doing so can help you save time by integrating digital payment solutions with the ability to make payments quickly, easily, and securely just by scanning the code. You can also use the information stored in the QR codes for data tracking, such as when payments have been fulfilled. QR codes open up a world of possibilities; opportunities are virtually limitless with this technology.
Interested in integrating QR codes into your processes? Let's link up.