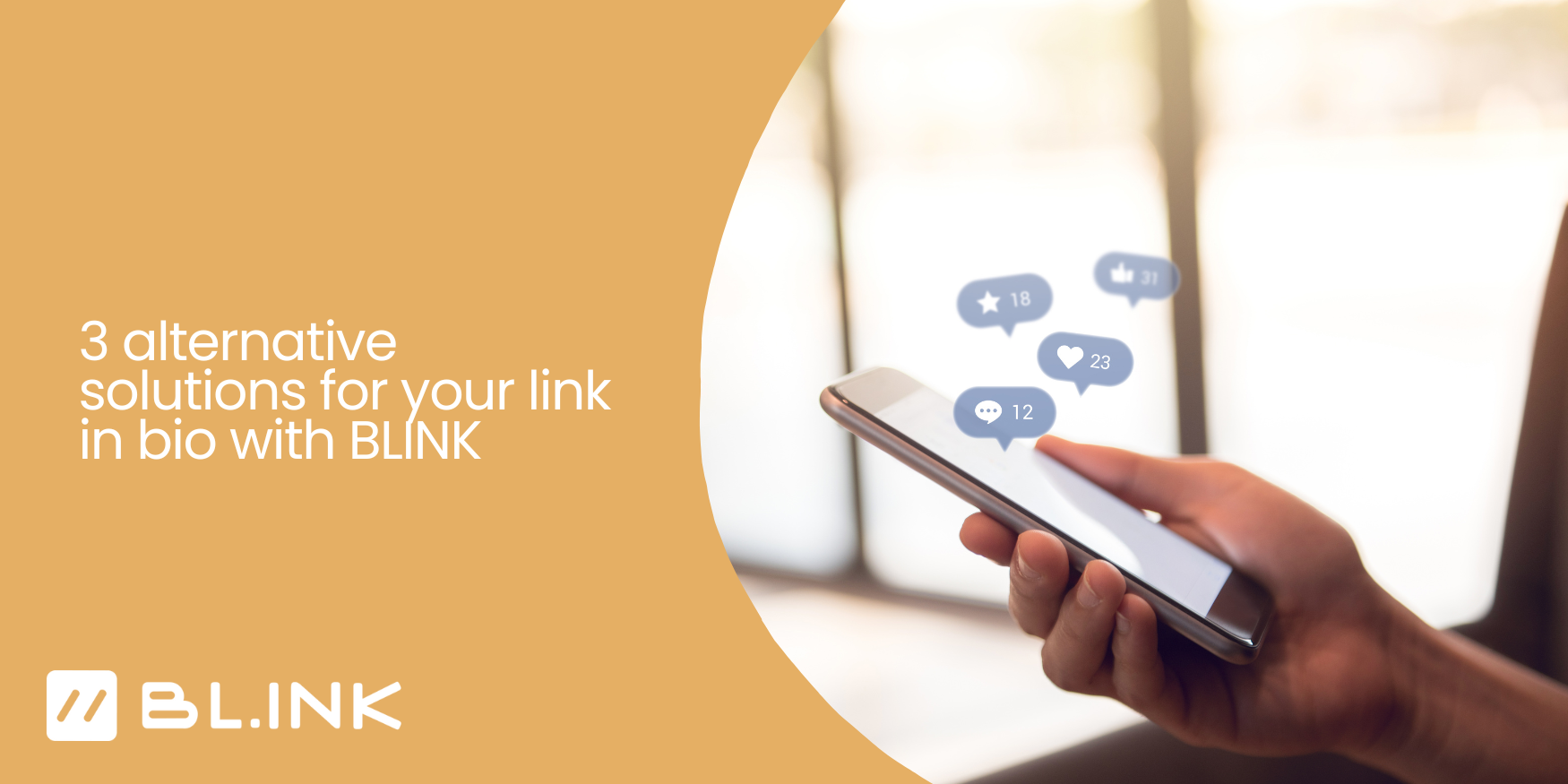 3 alternative solutions for your link in bio with BLINK
As the average consumer spends more time online, targeted link in bio solutions can help generate leads and drive conversions - but how do you choose the right solution for your business needs?
At BLINK, we offer 3 powerful solutions for optimizing link-in-bio management: PowerPages for Enterprise, dynamic links, and branded short links. Keep reading to learn more about each option so that you find the best solution tailored for your individual business goals!
Why do I need a bio link?
In today's digital age, having a strong online presence is crucial for businesses and individuals alike. One way to make the most of our social media profiles is by utilizing a link within your social profile bio. A social bio link is a clickable URL that directs visitors to a designated webpage, such as a product page or a blog post.
By including a link in bio, we can seamlessly guide our audience to the information they're looking for, all while maintaining a cohesive and sleek profile. With the help of a link in bio, we can increase our website traffic and conversions, while also simplifying our online marketing strategies.
Enhancing your bio link with BLINK PowerPages for enterprise
Imagine having the ability to create custom landing pages, personalized for each of your brands or campaigns with just a few clicks. BLINK PowerPages provides just that.
This innovative feature offers numerous benefits for enterprises, including the ability to enhance customer experiences with unique web pages tailored to their interests. PowerPages feature the ability to create landing pages with image blocks that redirect them to additional information, blog posts, web pages, email sign ups, contests and giveaways, and more.
PowerPages allow you to configure the landing page with your branding, colors, images, and more. With BLINK PowerPages, your customers will appreciate the personalized touch that sets your business apart from the crowd.
Additionally, each image block is connected to a BLINK short link, enabling you to view the engagement directly within the BLINK platform.
Create one single link for a global audience
BLINK dynamic links allow you to create one single short link that connects your audience to relevant information or content based on specific variables like day, date, time, location, language, and device.
Create dynamic links for global audiences that connect them to region specific content no matter where they're located. Create a dynamic link that redirects Apple users to the App Store and Android users to Google Play. Create a link that redirects your French users to a French landing page, and Spanish users to a Spanish landing page.
The possibilities for dynamic links are endless, and will "click" with your audience no matter where they are, what device they're using, or when they click on the link.
A BLINK dynamic link is an excellent solution for your social media bio link. Given the often limited characters and space in a social profile bio, a BLINK dynamic link serves as a one-stop solution.
Because dynamic links intelligently redirects users based on their specific variables such as location, language, or device type, it ensures that your followers are always directed to the most relevant content, enhancing their user experience.
Whether they're viewing your social profile during a promotion, a new product launch, or simply browsing, the dynamic link will always lead them to the most pertinent content. With BLINK dynamic links, you can maximize your online presence and make every click count.
Branded short links to maximize your engagement
In today's digital age, having a strong online presence is crucial to success. It's no secret that first impressions matter, and that's why it's essential to make sure your content looks polished and professional, and BLINK branded links can help you achieve just that.
A branded short link is a simple yet powerful way to maximize your social bio space, while maintaining your branding and boosting your engagement.
Branded short links use your domain and redirect your audience to any destination. Additionally, with BLINK, the destination is always editable. So you can always link your audience to the most up-to-date information.
Branded links not only make your content more visually appealing, but they also provide a sense of trust and reliability for your users. With BLINK branded links, you can ensure that your brand stays front and center.
The power of the branded link actually comes after the "click". BLINK analytics allow you to track the number of clicks and other metrics for each branded link, enabling you to assess your performance and make data-driven decisions in real-time.
Bio links are better with BLINK
At BLINK, we offer businesses and individuals powerful solutions to maximize their social media space with a link in bio. Whether you opt for PowerPages for Enterprise, dynamic links, or branded links, BLINK has the perfect solution to help you engage with your followers and maximize your online presence.
Creating a link in bio can be a great way to drive traffic to your content and take control of your social media presence. BLINK bio link solutions are all equipped with analytics and insights that help you elevate your presence on social media. Whether you're looking to draw eyes to a charity event, an upcoming webinar or an eCommerce page, BLINK can help amplify the impact of your marketing and help ensure that you put your best foot forward when it comes to representing your brand on social media.
Want to learn more? Let's link up.