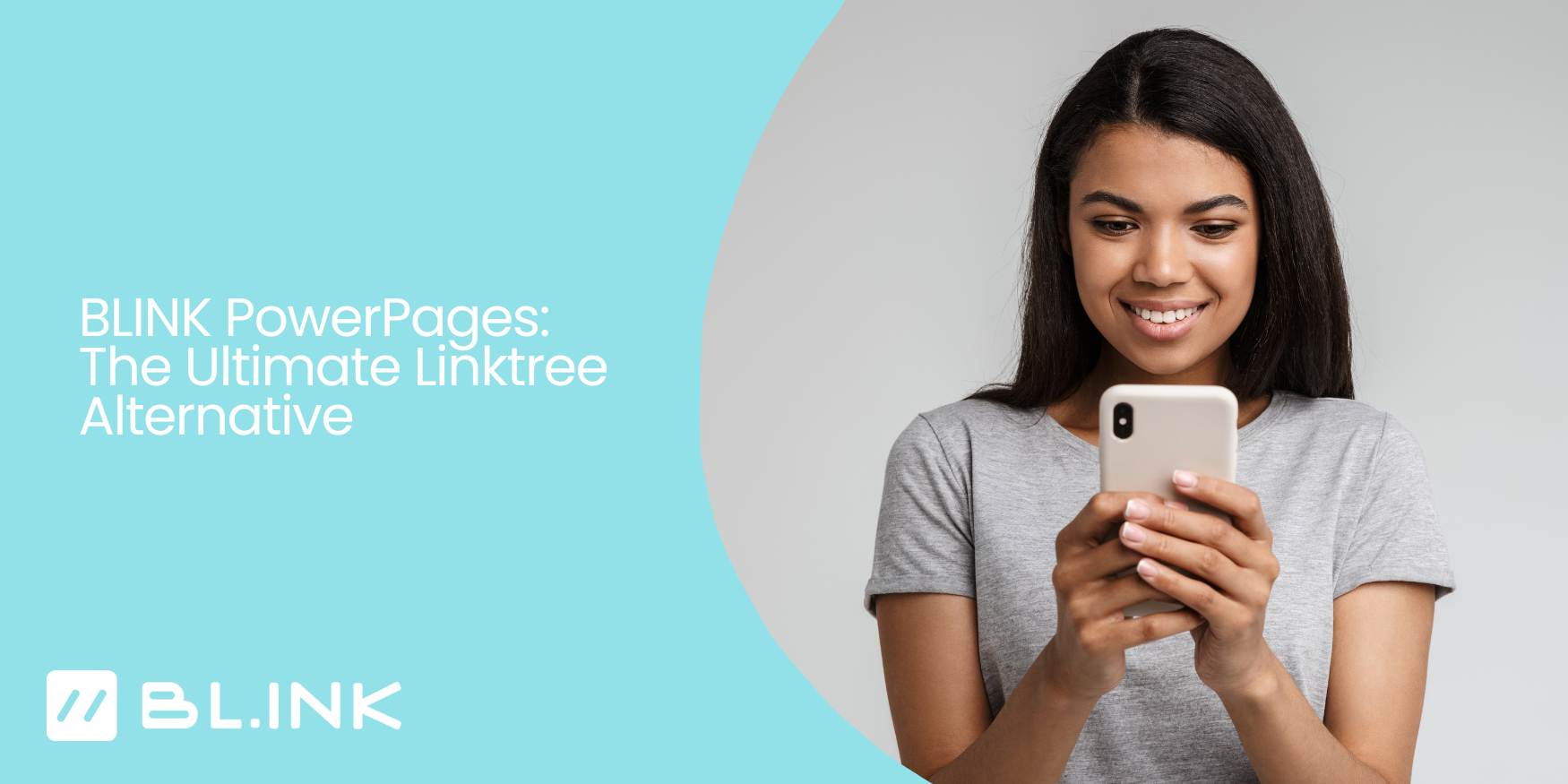 BLINK PowerPages: The Ultimate Linktree Alternative
Are you looking for a more efficient way to make the most of your limited social media bio space? Look no further!
At BLINK, our aim is to assist you in creating the perfect link. And now, we've launched a customizable, flexible solution so that your link in bio is the perfect link - for every single click.
BLINK PowerPages are the ultimate Linktree or Linkinbio alternative, offering a simple solution to all your bio link needs. With BLINK PowerPages, brands, marketers, and social media managers can create as many branded landing pages as they need in mere minutes—all while creating dynamic customer engagements through increased tracking capabilities. Keep reading to learn how this powerful tool can take your bio link game to the next level.
What are PowerPages?
Have you ever found yourself frustrated that social media sites only allow for one link or limited characters in your bio for your brand? Oftentimes, we see that brands have so much information they want to share, but only limited space or characters to do so.
With BLINK PowerPages for Enterprise, you can create a short, branded link that lives in your social media bios, and redirects your audience to additional relevant, timely, and newsworthy content all from one branded and customizable landing page.
Customize your landing page with your brand's logo, colors, and other social media icons so that your content can be easily accessible, remembered, and trusted. Add image blocks to your PowerPage that redirect to promotions, your website, your blog, and more with just a few clicks.
With PowerPages, you have full control over the content. Posts can be scheduled for publishing and deletion in advance or you can choose to publish immediately and keep your post up indefinitely. Each PowerPage block is connected to a short link, making that link accessible for other channels. Plus, the content can be edited or changed at any time. Everything in BLINK is always editable.
Collaborate with other teams, departments, or brands to create customized landing pages in minutes. Publishers can add or manage the content directly within their accounts.
PowerPages Benefits
PowerPages were built to be a powerful marketing tool - hence the name. BLINK offers fully customizable color, logo, and text options, and each PowerPage has its own branded short link.
As an example, check out our PowerPage here: https://blink.training/PowerPage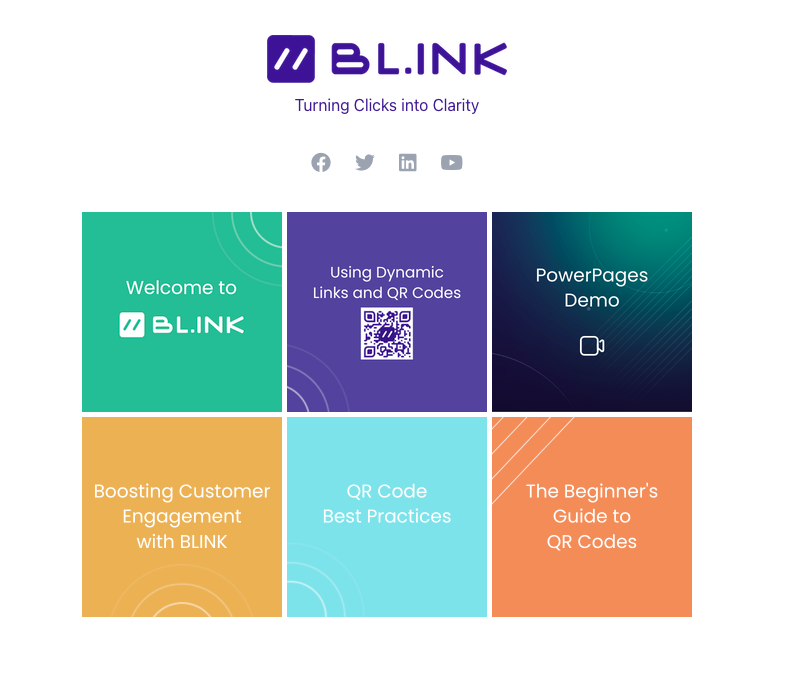 Instead of text blocks or bubbles, BLINK offers image blocks so that you have complete freedom over how the page appears to your audience. Each image block is also associated with a short link and you can publish, edit, and delete blocks quickly and seamlessly.
Additionally, each block's short link is fully trackable, offering you actionable insights into your customer engagement. Beyond just clicks, BLINK allows you to dive into location and device analytics. And, you can connect BLINK with your existing analytics platform for even deeper tracking capabilities, allowing you to adjust and improve your campaigns.
Tips for optimizing your PowerPage for maximum reach and engagement
Make sure your PowerPage reflects your brand identify
Having a strong brand identity is essential for any business or organization looking to succeed in today's competitive market. A well-defined brand identity helps your company stand out from the competition and establish trust with your customers. Branding also allows you to differentiate yourself from competitors and create an emotional connection with customers that can lead to increased loyalty and sales. Additionally, having a recognizable brand identity will help increase visibility across all marketing channels, helping you reach more potential customers than ever before.
The first step in creating a PowerPage for any business or brand is having a complete understanding of your brand identity. What are the colors you should use for the background and the text? What's your logo? How would you describe the brand's voice?
All of these things should be conveyed in your PowerPage. Your audience should recognize your brand from channel to channel.
Images should be compelling, high quality, and attractive
Attractive images are essential when trying to encourage your audience to click. Pick images that are relevant to the content on the other side of the link, and that draw your audience to click the image to find out more.
Images should match your branding guidelines as well. Make sure your images look and feel relevant and expected for your brand. You want your audience to trust where your image is leading them. It should feel familiar to the rest of your branding.
Additionally, make sure that your image is high quality and that the sizing isn't too small. If the image is too small, it will be stretched to fit the block sizing, making your image grainy and hard to see.
Include relevant, timely content that is exciting for your audience
The goal of a social media profile link is to drive your audience to deeper engagement with your brand. The short link should be compelling or actionable, leading your audience to click through.
You want the content shared on the PowerPage to lead your audience further - whether that is to your website, a promotions page, or a blog post. Make sure the content draws your audience in, feels brand relevant, benefits the user in some way, and feels authentic.
PowerPages offer a unique and powerful way to engage customers
PowerPages are a powerful tool to help you reach more customers and increase engagement with your brand. By understanding the principles of branding, using high-quality images, and providing relevant content that encourages further engagement, you can create an effective PowerPage that drives sales for your business. With BLINK's customizable options, analytics tracking capabilities, and image blocks for maximum flexibility in presentation, it's easy to see why businesses are turning to this platform for their marketing needs.
Want to learn more about how your marketing strategy could be better with BLINK? Let's link up.