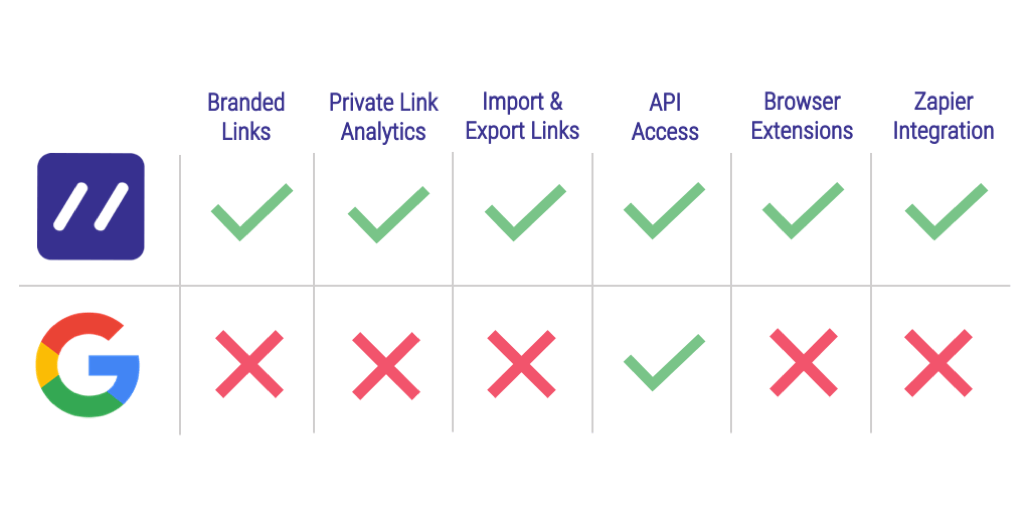 Upgrading from Goo.gl to BL.INK
If you've ever used the Goo.gle URL shortener, you're probably aware that after March 30, 2019, your short link information is going to be inaccessible. Here's the alert that's currently posted on the Goo.gl home page (as of January):

Before you dive into online research on alternatives, make sure you're clear on what you actually need. Check out What to Look For in Your Goo.gl Replacement for guidance on how to set your criteria for your next platform.
One of the criteria you should look for in a new platform is that it "won't leave you stranded." BL.INK won't leave you stranded at all. If you're using BL.INK the way we recommend, your links are always under your control. We start you off with a free domain for your links so you'll never be stuck with subpar or temporary service again—your links are on your domain, not ours. Of course, if you don't love BL.INK you can leave, but most customers stick around for years.
All free plans are not created equal
Going from Goo.gl to BL.INK means going from one free service to another. However, even though you're not paying more, BL.INK is a massive upgrade: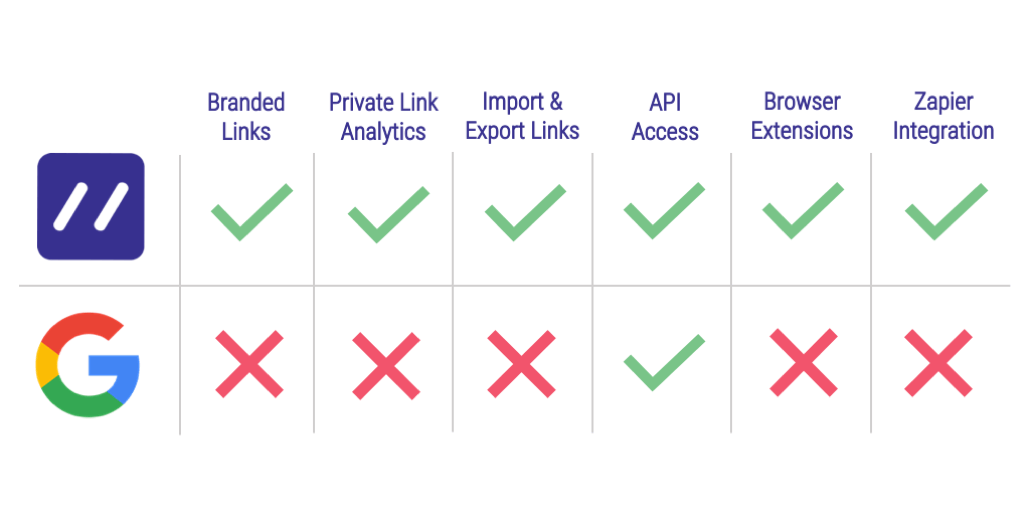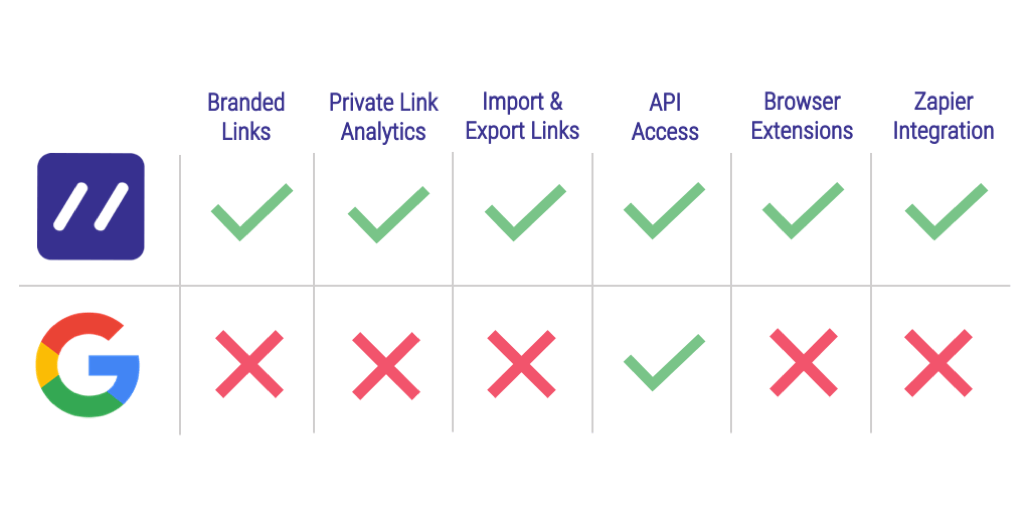 If you want even more features, find a BL.INK plan that's just right for your organization.
Support business growth with the right platform
It's not just about shortening URLs. Your platform has the potential to support your biggest business goals, from inspiring engagement to tracking KPIs, as well as building brand awareness and trust. We developed BL.INK to be an easy-to-use, comprehensive platform that will not only shorten links in just a few clicks but will simultaneously support your bottom line.
With the BL.INK platform you can evaluate campaigns in real-time so you know what's working and when it's time to course-correct. Over time, you'll learn what content gets the best engagement from your audience, which clarifies where to invest for the best ROI.
Use BL.INK links to build your brand
Branded links and custom domains put your brand front and center—not the brand of the URL shortening platform. For example, a shortened link like www.tmobile.careers/NYjobs promotes the T-Mobile brand, not the Bitly brand. Our research shows this has a significant impact on user trust and clickthrough rates. (See the stats in this infographic.)
Make life easier for your organization
Before you invest time and money in a new platform, make sure it supports the needs of the entire organization, not just the needs of one particular project.
That way, you're investing in something your organization will actually use. Otherwise individual teams or contributors are likely to go rogue and create links ad hoc on various other platforms that are hard to track, that you may not know exist, and that may be mis-marketing your brand. When that happens, you'll never be able to keep track of what links you have out there and how they're performing.
BL.INK gets your whole organization on one platform, whether the links are used internally or externally. It's intuitive to use and integrates into your current workflow, so it won't be a hurdle for your team. Plus, it works seamlessly alongside Google Analytics and the other platforms you already use.
We want to make it easy for you, too. It only takes a few minutes to sign up for your free account, register your free domain, and get started creating links!
Get started or request a quote for the BL.INK enterprise plan.