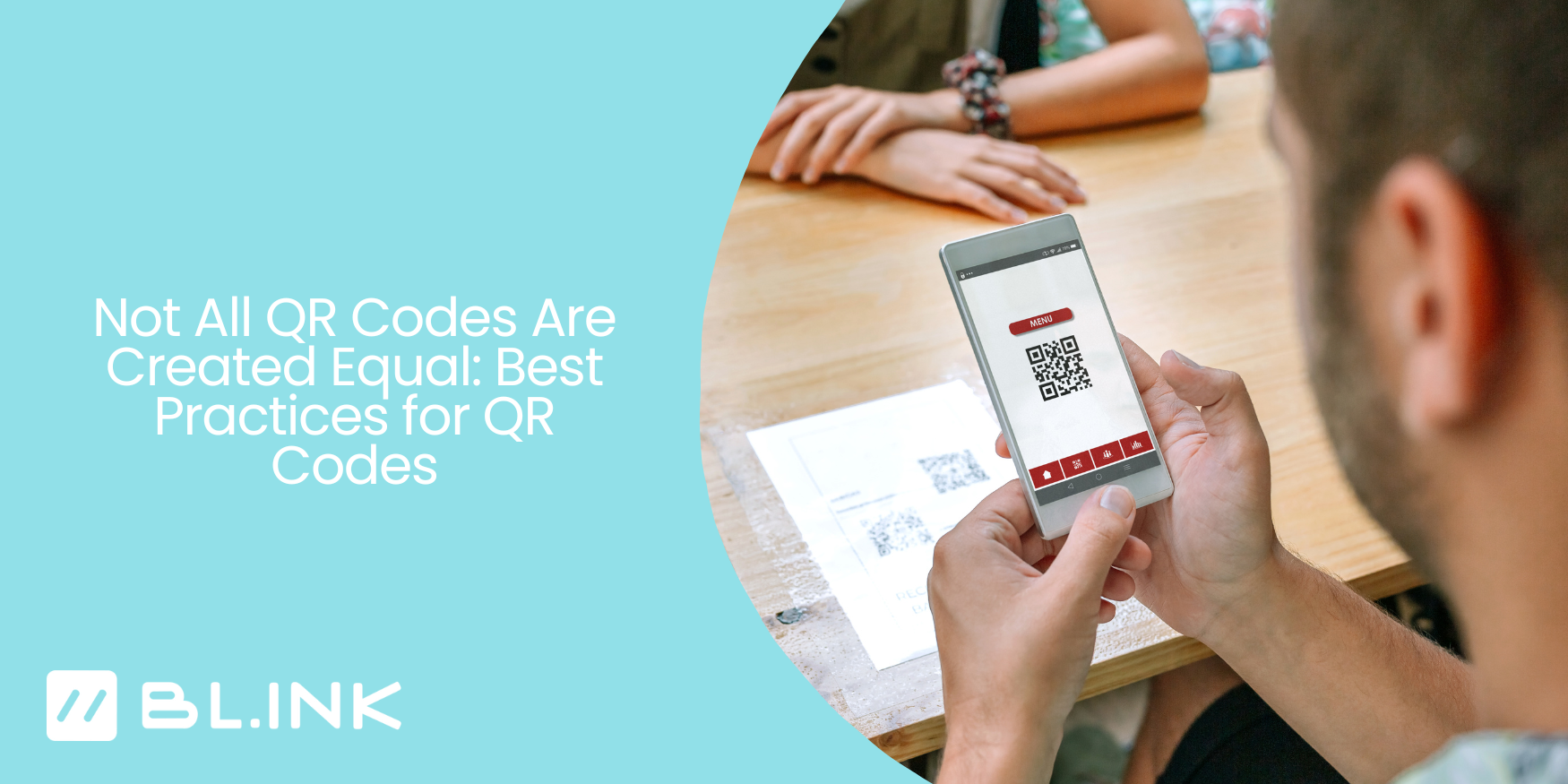 Not All QR Codes Are Created Equal: Best Practices for QR Codes
Quick Response (QR) codes are popping up everywhere as marketers move beyond traditional methods to reach consumers. QR codes can provide a quick and easy way for consumers to access digital content on their mobile devices. However, not all QR codes are created equal. There are a few things that marketing teams should keep in mind in order to create QR codes that are effective and engaging. Read on for best practices for QR code marketing.
What is a QR code and how do you use it?
QR codes are an efficient way for companies to market their products and services as they are easy to create, manage, and track. When scanned, QR codes provide a visitor with a direct link to product information, nutritional information, a website, a sign-up form, and more. Companies use QR codes on everything from product packaging to TV commercials to print brochures to take consumers quickly and easily from discovery to purchase. QR codes are an effective piece of marketing that any business of any size can benefit from.
QR codes bridge the gap between the physical and digital worlds. They can provide a quick, convenient way for customers to engage with a company. This seamless experience allows customers to stay up-to-date on the latest products and services without having to search for a website or remember a long, unsightly URL. QR codes also offer marketers an additional level of analytics and customer insight, enabling them to better track and measure the success of a campaign.
Static QR codes vs. dynamic QR codes
QR codes can be the bridge between the physical and digital worlds. Both static and dynamic QR codes can be incredibly powerful tools. However, depending on your use case, dynamic QR codes can offer additional customization, and flexibility, and allow you to better target your audience.
With BLINK, dynamic QR codes allow you to customize the link's destination based on variables like day, date, time, device, location, and language. For example, one QR code can redirect a user in France to one landing page, and a user in Brazil to a different location. This helps you to better connect with your customers, offering relevant-to-them information with every single scan. Additionally, QR codes created with BLINK can always be edited. So if your destination changes, your QR code that's printed on all of your product packaging can still remain the same.
Through QR code marketing, businesses gain access to tracking capabilities, allowing them to study user behavior related to a particular code as well as get insight into customer engagement.
Static QR codes are typically created through free services with very little regulation. Additionally, static QR codes are not editable. So, once they have been created, the destination must remain the same. Using dynamic QR codes ensures that you can update your destinations and reach your audience with relevant and accurate content.
BLINK is the perfect tool for businesses looking to create, manage and track dynamic QR codes with ease and accuracy.
Best practices for using QR codes in marketing campaigns
QR codes have become an increasingly important tool for marketing professionals looking to connect with customers and track their campaigns. QR codes enable companies to link customers directly to product pages, online promotions, or pages containing other relevant information – boosting ROI and making it easy for customers to access desired content quickly.
With BLINK, marketers can create unique QR codes for their campaigns, manage them over time, and easily track performance metrics at each touchpoint. As QR codes become more integrated into marketing best practices, investing in a reliable QR code generator can help your business bridge the gap between digital and physical media, unlock more engagement from consumers, and boost your outreach efforts.
A few things to consider when choosing a QR code generator
Can your QR codes be customized to meet your branding guidelines?
Will your customers trust where your QR code is taking them?
What happens if the destination or landing page changes?
Are your QR codes secure?
Tracking customer engagement with QR codes
BLINK makes it easy to track customer engagement data with QR codes. QR codes are the preferred solution for enterprise companies who want to monitor and manage customer engagement in their QR code campaigns.
BLINK offers you the ability to create, manage, and track QR codes in product packaging, TV ads, and print brochures, thus enabling you to effectively collect information on everything from product purchases to customer preferences. Track real-time scan, location, and device data directly within BLINK.
Additionally, BLINK's URL Builder helps to create the perfect link and QR code every time, adding in your tracking parameters seamlessly -- allowing you to dive deeper into customer behavior with your existing analytics tools.
Examples of successful QR code marketing campaigns
Many companies have tapped into the power of QR codes to build successful marketing campaigns. One BLINK customer, a global food and beverage company implemented QR codes on their product packaging in order to comply with regional laws and regulations regarding the nutrition labels and languages.
Their product packaging QR codes utilize BLINK's dynamic links, which route the visitor to the correct destination based on a specific variable like day, date, time, language, location, or device. In this use case, they needed to be able to display the most accurate and up to date information for each location and each language.
Read more about this company's use case and how BLINK filled the gaps here.
Coca-Cola is another great example. Coca-Cola uses BLINK to bridge the gaps between their physical product, and the online product information. Using BLINK links allows their QR codes to redirect their customers to relevant product and nutrition information -- wherever the customer lives.
Read more about Coca-Cola's use case here.
Tips for creating your QR code campaign
QR codes are an easy-to-use tool for creating modern, custom marketing campaigns. With BLINK, QR code generation is a breeze; but here are some tips to ensure that your campaigns click with your audience:
Be mindful about contrast between the body of the QR code and the background. Poor contrast can result in poor readability and lower overall engagement.


Take packaging placement into consideration. Keep in mind the sizing of the package vs the size of the QR code (minimum 1cm x 1cm, but 2cm x 2cm is preferred).


Print materials used should be well-thought out and carefully tested. Consider the reflectivity, angles, rounding, dust, and condensation.


Longer links produce a denser code with a larger number of dots, sometimes increasing the time to scan or challenges with readability. Using a BLINK short link allows for thousands of characters with optimal attribution.


Always, always, always TEST the QR code before sending it to print. Make sure that the QR code is redirecting to the correct destination, is reading on your device, etc.


Error margins: BLINK's QR codes allow for up to 15% error margins. This means that if the QR code is damaged, the QR code will still redirect. When printing QR codes on packaging or in-store, this is a number to keep in mind.
Connecting the dots
With the right strategies in place, QR codes can have a huge impact on any company's marketing strategy and brand recognition. From generating leads to driving engagement and conversions, using QR codes strategically can greatly benefit your business initiatives.
Companies today can measure success through data tracking with QR codes far beyond results from traditional channels. Whether you are just starting or you already have an established presence in the market, incorporating QR codes into marketing strategies should be a strong consideration.
Ready to get started? Let's link up!