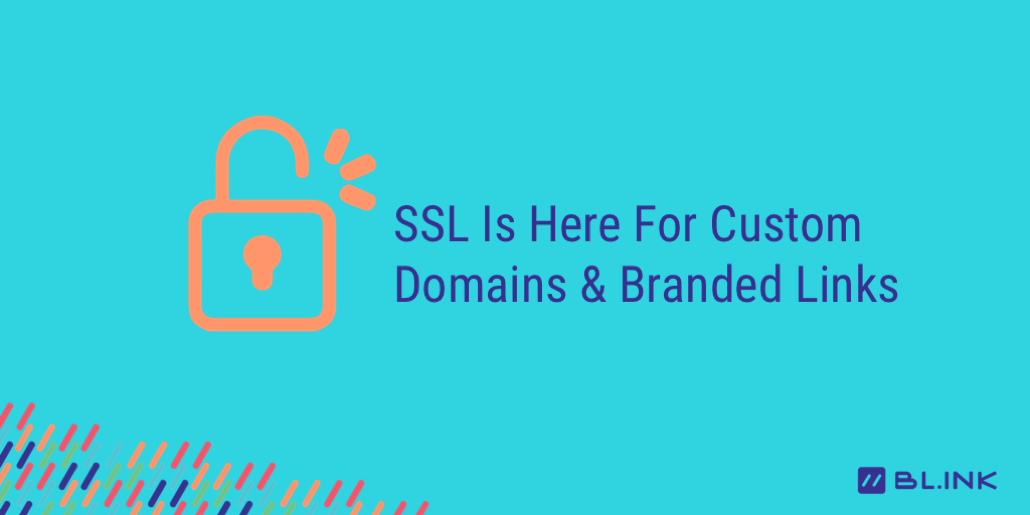 SSL Is Here For Custom Domains
Security is a top priority at BL.INK, which is why we have added SSL certificates to BL.INK branded short links. Whether you're a "solopreneur" or a large enterprise, sharing a secure link with your audience indicates that your brand values online safety because your brand encrypts customer engagement from start to finish.
What is an SSL Certificate?
According to the security and identity technology firm GlobalSign,
SSL Certificates are small data files that digitally bind a cryptographic key to an organization's details. When installed on a web server, SSL activates the padlock and the HTTPS protocol and allows secure connections from a web server to a browser. Typically, SSL is used to secure credit card transactions, data transfer, and logins, and more recently is becoming the norm when securing browsing of social media sites.
Note that we added the italics to the quote above since individuals and businesses (including BL.INK customers) increasingly recognize the importance of secure interactions on social media.
You can tell if a website or link is secured by SSL by looking at the URL. Secure pages and links start with https://, while URLs that are not secured with SSL start with http://.
Why are HTTPS links important?
SSL Certificates are the gold standard (and widely accepted protocol) for establishing a secure, encrypted connection between a web server and an Internet browser – making sure that data passes safely between the two. Not only is this important to protect your brand against cyber attacks, but having secure content, as denoted by HTTPS (instead of HTTP) in your URL, signals to Google and other search engines that your content is legitimate.
Do I need to update my BL.INK account or my custom links for SSL?
No, you don't need to lift a finger! BL.INK has made this security update across all custom domains and branded links. Create links and share them with even greater confidence.
What happens to the links I've already created?
All of your previously-created links will automatically update to HTTPS. But don't worry, while your links now have greater security, your original links are fully operable and otherwise unchanged. And your BL.INK analytics will also remain consistent. As a best practice, be sure to update the short links you share across your marketing ecosystem. Don't forget to update your social media profiles, blog posts, and evergreen email campaigns to use the new HTTPS link.
SSL and Lots More
Security has always been a priority at BL.INK. We believe in keeping your data private and offer advanced security features such as Single Sign-On, Whitelisting, and tiered user access.
Want to learn more about why BL.INK is trusted by some of the world's most reputable brands? Tell us about your use case today to learn how you can upgrade your link security in 2019.