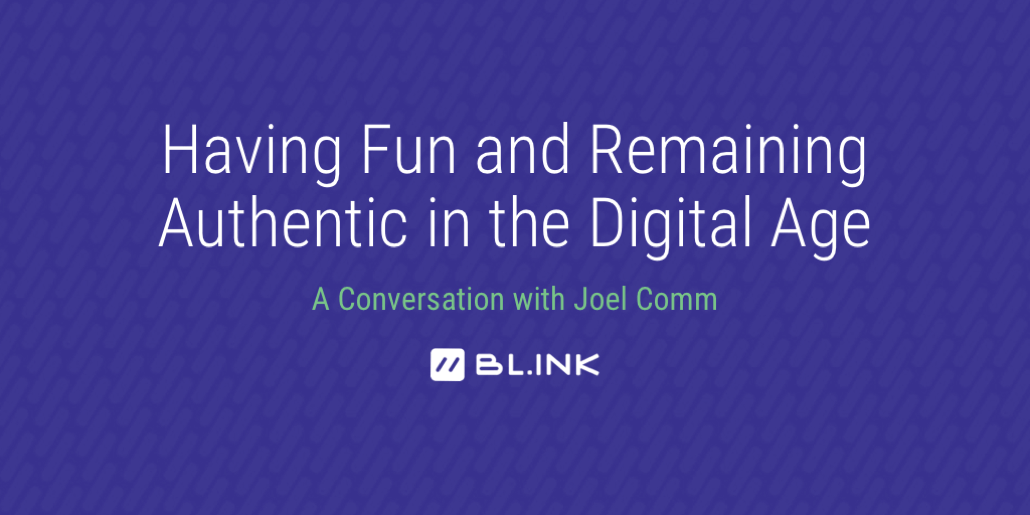 Remaining Authentic in the Digital Age: A Conversation with Joel Comm
We were inspired to talk to BL.INK Advisor Joel Comm, after reading his recently-published book, The Fun Formula.
BL.INK Advisor Joel Comm is a New York Times bestselling author, blockchain enthusiast, professional keynote speaker, social media marketing strategist, live video expert, technologist, brand influencer, futurist, and, in his own words, "an eternal 12-year old." We sat down with him to discuss the idea of authenticity in the digital age.
Our conversation covered a wide range of topics, including his most recent book, unique career trajectory, and successful cryptocurrency podcast. Here are the top takeaways from his inspiring interview, all of which remind us that success happens when you do what you enjoy.
Inspiration can come from anywhere
Joel talked a lot about what inspires him. He quickly learned that he thrived as a "solopreneur" as opposed to working in a traditional J.O.B. when, years ago, he became a disc jockey. He saw the business opportunity in owning and renting equipment for various events, and he realized he could work and have fun simultaneously. This inspired him to continue to look for entrepreneurial opportunities throughout his career.
Do the unexpected to shake up your world view
Even if you're an entrepreneur pursuing your passion, it's easy to lose sight of why ideas took root in the first place.
"I needed to go on a sabbatical. So I took a break from writing and got a job as a cashier at Barnes and Noble. This position gave me an opportunity to shake up my paradigm. By talking to customers and making recommendations, I learned a lot about the book industry. When you put yourself in positions that can change your view of the world, you are more likely to find inspiration and get creative about all the opportunity the world has to offer."
Failure is a part of the process
You have to experience failures in order to achieve success.
Joel described how he started a mobile advertising company. Despite the investment of time and money, the product never gained traction. "Where my a-ha moment happened was when I stopped. When I finally stopped doing the project, it was a relief because I was no longer failing. The failure had happened and I was free to learn from it and move on."
Ask questions and be open to possibilities
Authenticity is about asking questions and listening. All too often, people try to sell – themselves, their products, their ideas – but few people genuinely listen and ask questions. Being curious can open doors. Joel's curiosity and questioning spurred the creation of The Bad Crypto Podcast. What started as a random conversation between Joel and his co-host, Travis Wright, turned into a successful ongoing conversation.
"We started asking questions because we didn't understand crypto. Asking these questions led us down a path of discovery."
Joel recognizes the value of building community by inviting people along the journey to understanding. As Joel says, "Maybe there are people out there like me who want to know more about crypto-currency too." Asking questions resonated with their audience. Their podcast grew to 5 million downloads on iTunes in the last year – all thanks to curiosity.
What inspired you to become a BL.INK Advisor?
We asked Joel why he was inspired to become a BL.INK Advisor. In keeping with his commitment to authenticity, Joel explained how he chooses to work with people and brands. "I have to be genuinely interested in the opportunity, and BL.INK was a no-brainer. I was already using URL shorteners for my podcast but moved to BL.INK because it's a better mousetrap. I get better data and it's easy to see what content is resonating with my audience."
We're certainly thrilled that Joel brings his unique flair to the BL.INK community as an Advisor. To keep up with Joel, follow him on Twitter, read his book, The Fun Formula, Listen to The Bad Crypto Podcast, or visit his website.
Stay tuned for future webinars with our insightful BL.INK Advisors!