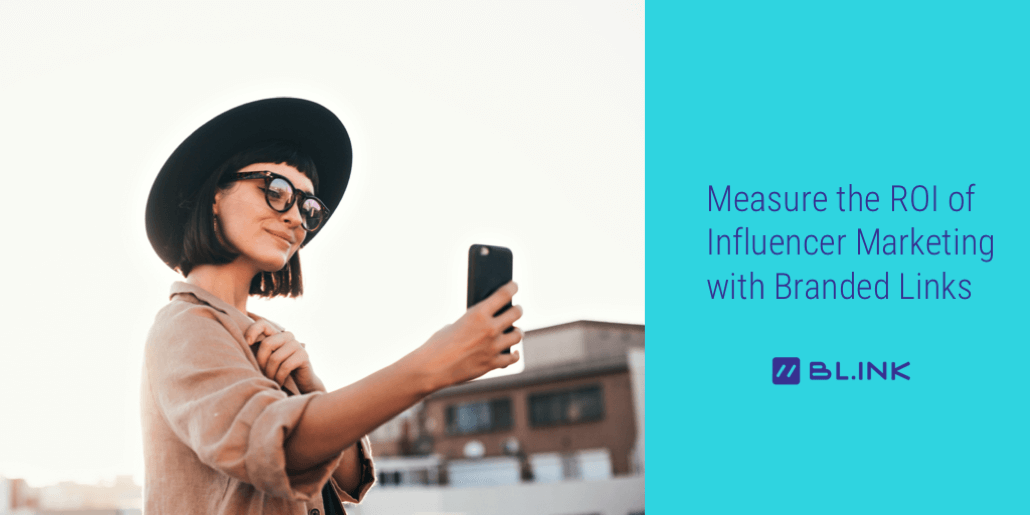 Measure ROI on Influencer Marketing with Branded Links
Tracking the impact of influence can be complicated. Branded links can shed light on the ROI of your influencer marketing program.
Influencer marketing is becoming more widely recognized as a way to gain exposure to new audiences and spread brand messages. Brands look to influencer partnerships to sell products and services to audiences who are engaged, trusting, and looking for recommendations.
For influencers, partnering with brands is a strategic way to boost their own thought leadership and following.
There's tremendous opportunity for both brands and influencers—as long as they're willing to invest in doing it well. After all, relationships and reputations are at stake. In order for these partnerships to be successful, both parties need to know that their investments are mutually fruitful and supporting the goals of both parties.
Brands: Measuring influencer results
The bigger your influencer program, the harder it can be to track overall results—not to mention results from individual influencers. Since you don't own the domains where the influencer conversations occur, you don't have access to their metrics. It's hard to know which influencer relationships are the most profitable, so it's not clear which relationships are helping you to reach your goals.
Some brands track results by giving influencers unique promo codes to pass along to their audiences. This is the right idea, but this method only registers activity when the code is used at checkout. Most likely, that only represents shoppers who saw the content and followed through immediately with a purchase when using the promo code. This method doesn't track people who were interested enough to click to learn more, but who didn't buy right away.
Using unique branded hashtags is another common tactic that also falls a bit short. Brands can see impressions on that hashtag but have no way to tell how many people took action and visited their site after seeing the content on social media.
There is a simple way to track actual click-through metrics on your influencer marketing, though. Through BL.INK, you can create a unique branded short link for each influencer, such as yourbrand.social/influencer-name, and then ask them to use that link whenever they promote your brand. For example, when we launched BL.INK, we gave our team of Advisors short links to share with their audiences, such as https:/bl.ink/Ian, https://bl.ink/Stephanie, and https://bl.ink/Joel. Thus when our Advisors shared using this short link, we would get brand impressions and any clicks could be tracked by each Advisor.
Creating short links through BL.INK gives you easy access to click-through analytics, to see how many clicks each influencer drives to your site. And because it's all in one place, you can quickly assess which influencer relationships are thriving and which ones may be struggling.
When you track these analytics over time, you'll discover patterns to help you hone in on which types of influencers resonate most strongly with your brand. You'll also learn which types of content work best with each influencer's audience so that you can continue to refine your strategy and invest where you'll get the best ROI.
Influencers: Proving your impact
Brands today have many influencer partner options, and they're continually re-evaluating their strategy.
But don't assume brands realize how you're helping them and why they should continue the partnership with you. Brands may not be aware of everything you do and therefore may not have an accurate perception of your impact.
Also, don't wait for them to initiate analytics tracking. Create a unique BL.INK branded link (or set of links) for each brand you work with. You'll be able to share results with current and potential brand partners, which will help you demonstrate your commitment to the partnership and their ROI from working with you.
Creating your own branded links and accessing your own analytics makes it easier to manage multiple relationships because you can quickly compare results between brands.
You'll see which brands your audience is eager to engage with, and which brands don't resonate as well—so you'll know where to double down your efforts and where a partnership may not be the best fit. It also helps you grow your own brand and understand what your audience loves most.
Like any relationship, transparency is key
A successful brand-influencer partnership requires transparency and joint efforts. The relationship is designed to be beneficial to both the brand and the influencer, and the analytics tracking should support not only the ROI but also the partnership itself.
Branded links keep everyone on the same page so you can make smart investments, course-correct early on, and truly work together for a win-win.