Four Essential Rules of Linking
It's probably no surprise that here at BL.INK, we believe the link matters. We're not the only ones. While many businesses of all sizes use links on a daily basis, we still see some of the world's greatest brands making the most basic mistakes when it comes to short links.
Let's take a step back and talk about the four fundamental, must-follow rules about linking. The good news: the tips in this post are so simple you can implement them today.
1. Brand your links
If you don't use a branded custom domain for every link, you're missing an opportunity to build brand value and trust. Why? First, with a branded custom domain, your audience knows you've vetted the content and stand behind it. Second, your link is associated with your content. Your brand should be part of that, not some generic shortener's brand! Not showing your brand every time you share a link is simply a missed opportunity.
Here's an example: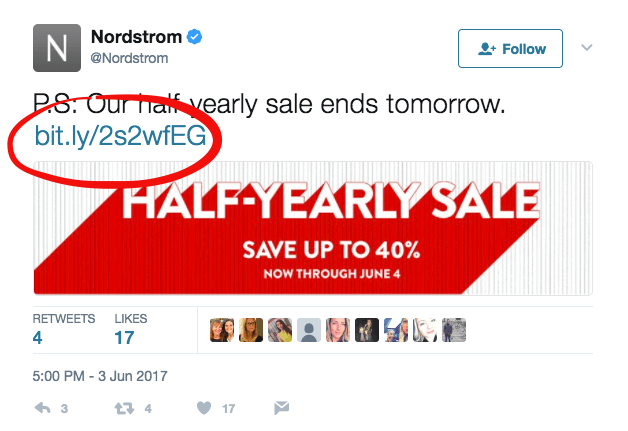 Nordstrom is widely admired for its branding excellence. Everyone loves to shop the half-yearly sale, yet Nordstrom is missing out on a major branding opportunity with its short links.
Imagine if the link shared was nordstrom.sale/halfyearly.
We know that Nordstrom would get more clicks. How do we know? A recent study confirms that users will choose short links using real words TWICE AS FREQUENTLY as either legacy Bit.ly short links (which are meaningless and forgettable) or long (and equally forgettable) links.
Click here for more details about how branded links can bolster your marketing efforts.
2. Use pronounceable, memorable links.
In the Q1 2018 Nielsen Total Audience Report, nearly 20% of US households are using a smart speaker at home, and daily video consumption continues to grow, currently at 5.5 hours per day. How does this relate to links? What people type is less important than ever; what they see and hear (and can say to a smart speaker) are more important than ever. That means your links need to be visually memorable and easy to say (or spell).
Most link shorteners will generate a meaningless character mix, but if you take just a couple of extra seconds, you can make your link more compelling and it will generate more clicks for you.
For example: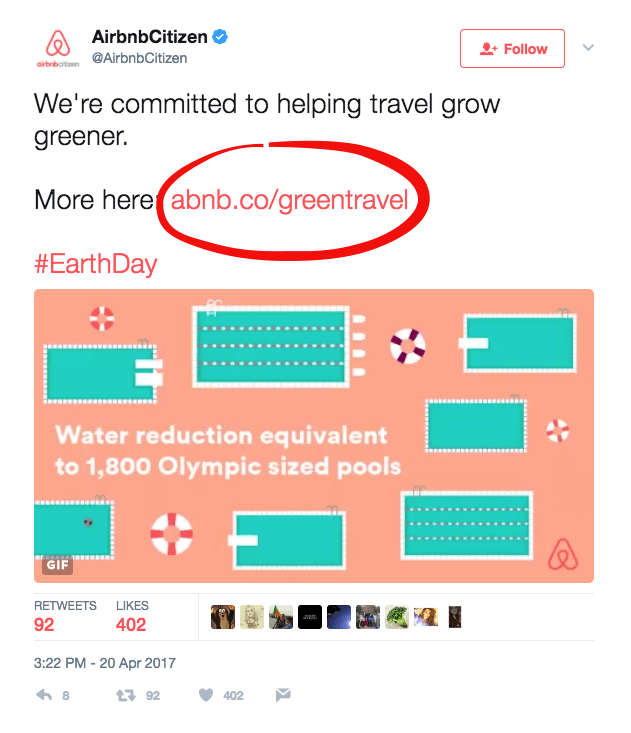 Airbnb uses a branded link with a simple, easy-to-remember (and easy-to-say) suffix that is related to the content and makes the whole tweet more meaningful. In contrast to: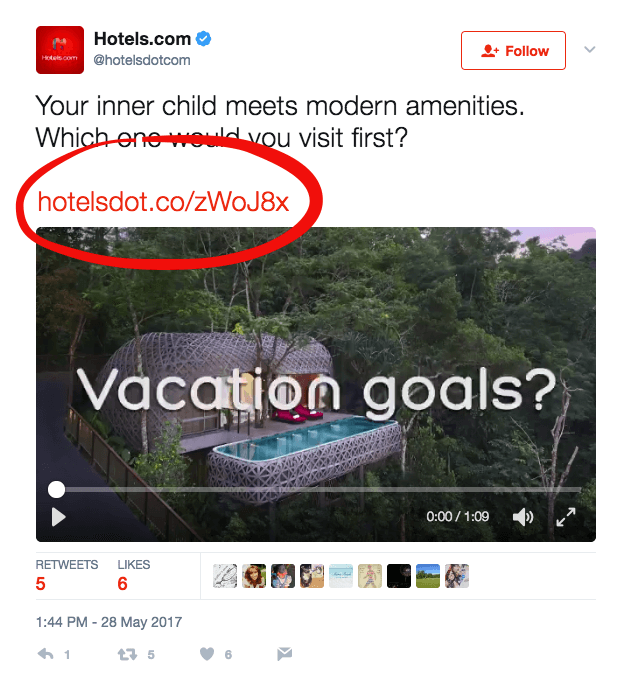 Points for using branded links, but the content after the "slash" doesn't mean anything to your audience. Better yet, use a new top-level domain along with your brand, to form a meaningful, memorable short link.
How much better would hotels.vacations/goals look here?
Learn more about innovative ways to make your short links more memorable and more versatile, across all of your marketing initiatives.
3. Protect your click stats
There have been recent articles about bots in Twitter, but people also don't realize the potential harm that occurs with legacy link shorteners.
For example, it's all too common to see brands using a legacy link shortener that publishes their stats for all to see. Giving your competition a crystal-clear look into your campaign performance is a cringe-worthy and costly mistake. What's worse: many organizations don't even know they're doing it.
Here's what we mean: Using the Nordstrom link from rule #1, try adding a plus sign to the end of the link: bit.ly/2s2wfEG+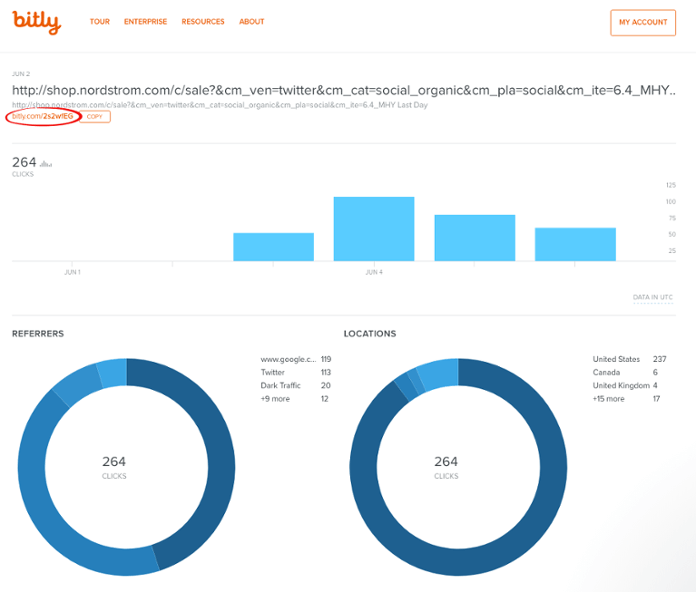 What have we here? Detailed information on Nordstrom's click-through rate, referral traffic, and audience demographics, available for anyone to see.
Stats on BL.INK short links are always private. No exceptions. At BL.INK, we hear from clients every day on how important data privacy is to them, which is why we require a verified account to view any link data whatsoever.
4. Don't use case-sensitive links
This one may be surprising, but most legacy short links are case-sensitive, meaning they'll direct to a completely different place if a single letter is in a different case. Not only is this bad for you (the marketer), but think of the burden you're placing on your audience: one false keystroke and they've clicked into a bad user experience. That's a disaster (or at the very least, embarrassment) waiting to happen.
A quick example from Whole Foods, using a legacy case-sensitive link to a recipe video: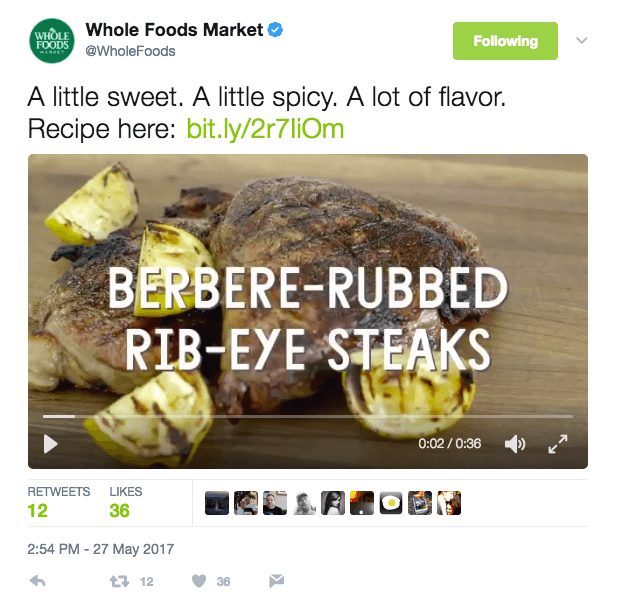 What if that link gets mistyped and that "m" on the end gets capitalized? Give it a shot: http://bit.ly/2r7IiOM
Spoiler alert: this does NOT go to the intended destination. Best-case scenario, the link is merely broken. Worst case, someone with malicious intent could create a similar link with just a different case and trick your audience into going to a phishing site or worse. Either way, it's a poor user experience.
Links created with BL.INK are not case-sensitive, which comes in handy on platforms such as Instagram, where links in posts that aren't sponsored are disabled, leading to frequently hand-typed links.
If you're looking for a deeper dive into link management, check out the BL.INK Blog for lots of insightful information. If you're ready to add linking to your marketing arsenal, try BL.INK.