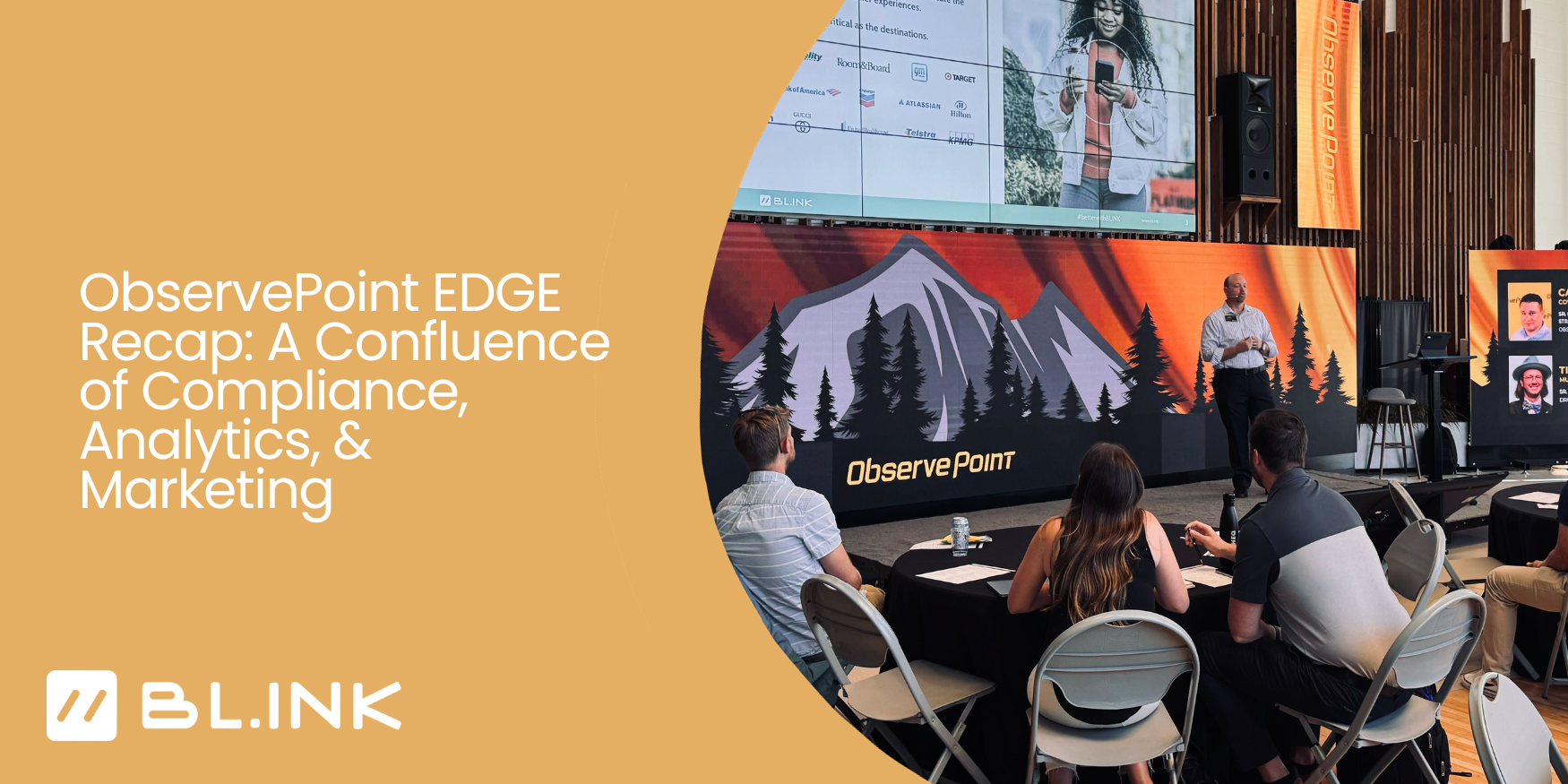 ObservePoint EDGE Recap: A Confluence of Compliance, Analytics, & Marketing
Last year's inaugural ObservePoint EDGE Conference was lauded for its natural collaboration and rave reviews. This year, the exclusive web governance event held in Provo, Utah, under the majestic Wasatch Mountains, did not disappoint. It continued to provide a platform for passionate leaders in Digital Marketing, Analytics, and Privacy to interact, learn, and address pressing issues in the industry.
ObservePoint, known for bringing insights, automation, and compliance to the complexity of the digital customer experience, hosted the event with a focus on governance strategies, problem-solving, and competitive differentiation. Attendees had a chance to spend time with product experts and learn how the world's biggest brands trust ObservePoint technology to drive insights.
Andy Meadows, BLINK's founder and CEO, and Christopher Justice, VP of Operations, had the pleasure of attending.
A significant highlight of the conference was the introduction of the partnership between ObservePoint and BLINK. Together, they have constructed an integration designed to offer auditing and compliance functions for customers concerned about the security of their links and QR codes and deliver this critical data into the hands of global marketing teams. This partnership aligns perfectly with both BLINK and ObservePoint's roadmap strategy, promising exceptional, detailed product development.
Justice shared that the conference was a rich amalgamation of customer discussions about compliance and the importance of constantly auditing websites and links and the importance of this information in a constantly evolving world of privacy and compliance. He praised ObservePoint's customers and team for their industry experience, which simplifies web and tech governance amidst the complexity of the content.
Meadows echoed similar sentiments. For him, the partnership between ObservePoint and BLINK was a testament to the incredible ROI that can be achieved when platforms integrate. He stressed that the shared vision and culture of both companies—customer focus, relationship building, impact-making—are poised to deliver growing, continual value to their customers.
BLINK and ObservePoint released a joint case study at the event about their shared customer, Room & Board. There were three key highlights from this research that led to astounding results that the attendees heard first-hand, directly from Room & Board.
Room & Board received a 16.3x monetary return on their platform investment and a 3.5x return on labor.


Room & Board reduced their broken link percentage for Display, Facebook/Instagram, and Pinterest by 99%, which prevented an estimated $1.64M in wasted yearly ad spend.


Room & Board also saved 622 hours annually on campaign link testing and repair through the implementation of their automated, no-code system.
The EDGE conference also underscored the criticality of compliance and the complexities required to do it right. It illuminated the idea that making something look "easy" requires investing in conversations, trial and error, and genuinely listening to customers to solve their current and future problems.

BLINK was delighted to sponsor the conference, especially since our three primary customer groups—Analytics, Compliance, and Marketing—were all in attendance. The rich discussions throughout the event affirmed BLINK's roadmap, validated our impact, and sparked enthusiasm for the future.

BLINK was fortunate to have the opportunity to share our integration story and the benefits it brings to aligning Analytics, Compliance, and Marketing teams. During this time, BLINK was also able to share multiple customer stories that highlighted the benefits and rewards of team alignment and the impact that it has had for their customers around the globe. A copy of the presentation may be accessed online.


In conclusion, the ObservePoint EDGE Conference was a pivotal gathering of industry leaders, showcasing the power of collaboration, the emergence of innovative solutions, and the path forward in the rapidly evolving world of digital governance.
Want to learn more about the BLINK x ObservePoint integration? Let's link up.