BL.INK OFFERS ENTERPRISE SOLUTIONS
Tailored Business Platforms
BL.INK offers flexible, enterprise add-on modules to support different solutions and functionalities. There are two flavors of the BL.INK platform: self-service and enterprise.
The BL.INK self-service option offers different month-to-month price points that include features to support start-up to small businesses. Users on self-service plans can cancel, upgrade, or downgrade at any time.
But BL.INK's sweet spot – where we really shine – is enterprise.
Enterprise link management is a whole different caliber, and each use case is different. We built a platform that is flexible enough for any use case or idea that our brilliant customers can dream up.
In this article, we're going to walk through a few of our different add-on, enterprise modules that support different solutions and functionality that ensures our customers have a true, global, enterprise solution with BL.INK.
Enterprise Advances Standard Capabilities
On the BL.INK website, we have a section dedicated to enterprise. These pages walk you through some of the standard enterprise capabilities including analytics, support, security, and integrations.
BL.INK can:
Integrate with your existing enterprise stack

Meet all of your security and compliance requirements

Offer enterprise-grade click analytics


Our analytics are second-to-none. We're able to provide more information than our competitors, closing the gap on some of the questions about your current enterprise analytics tools, your campaign performance, and how to access click data out of the gate.
In addition to our base platform that provides a ton of value out-of-the-box, we offer a number of optional enterprise modules. To level up their link management capabilities, enterprise users can pick and choose modules to customize their plan and enhance their experience with BL.INK.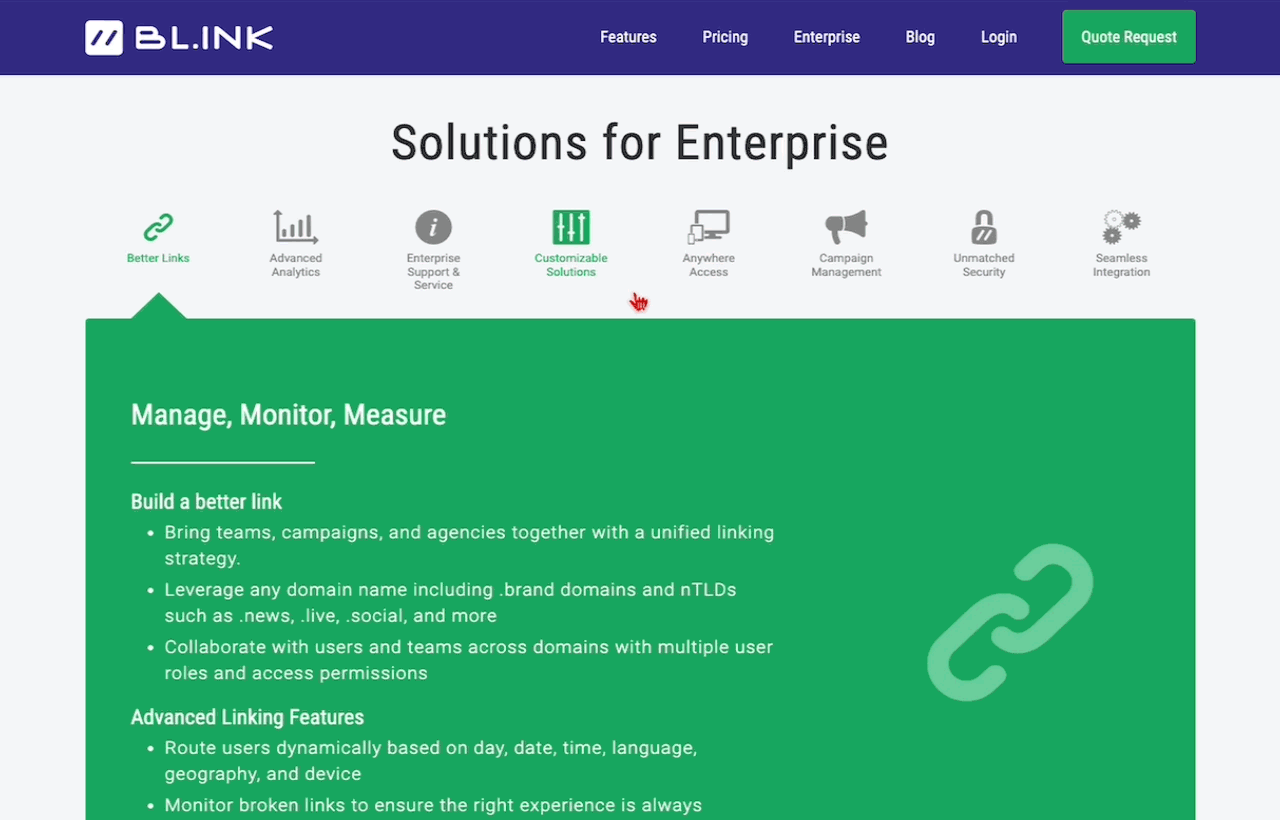 Broken Link Report Monitoring
The broken link report essentially monitors every link inside of your BL.INK platform, checking to ensure that each link is redirecting as expected and that there are no 404 responses or broken pages. If there is an error, we'll automatically generate a report and notify you via email so that you can log in and update the link's destination.
Sometimes it's just a simple change– where a blog post has been removed or updated–and you can log in to BL.INK and update the link quickly and efficiently. In other cases, customers have had a programmatic change where their website updates, and suddenly, thousands of links are broken. They simply send us an email to do a quick find and replace – where it says "this" it should say "that." Our team can then update the thousands of broken links to get links redirecting as expected again.
The broken link report can still be a useful tool, even if you have internal-only links. We have an exclusion system to exclude links based on certain domains or links, ensuring that your links that are inaccessible to the public aren't showing up regularly on your broken link report.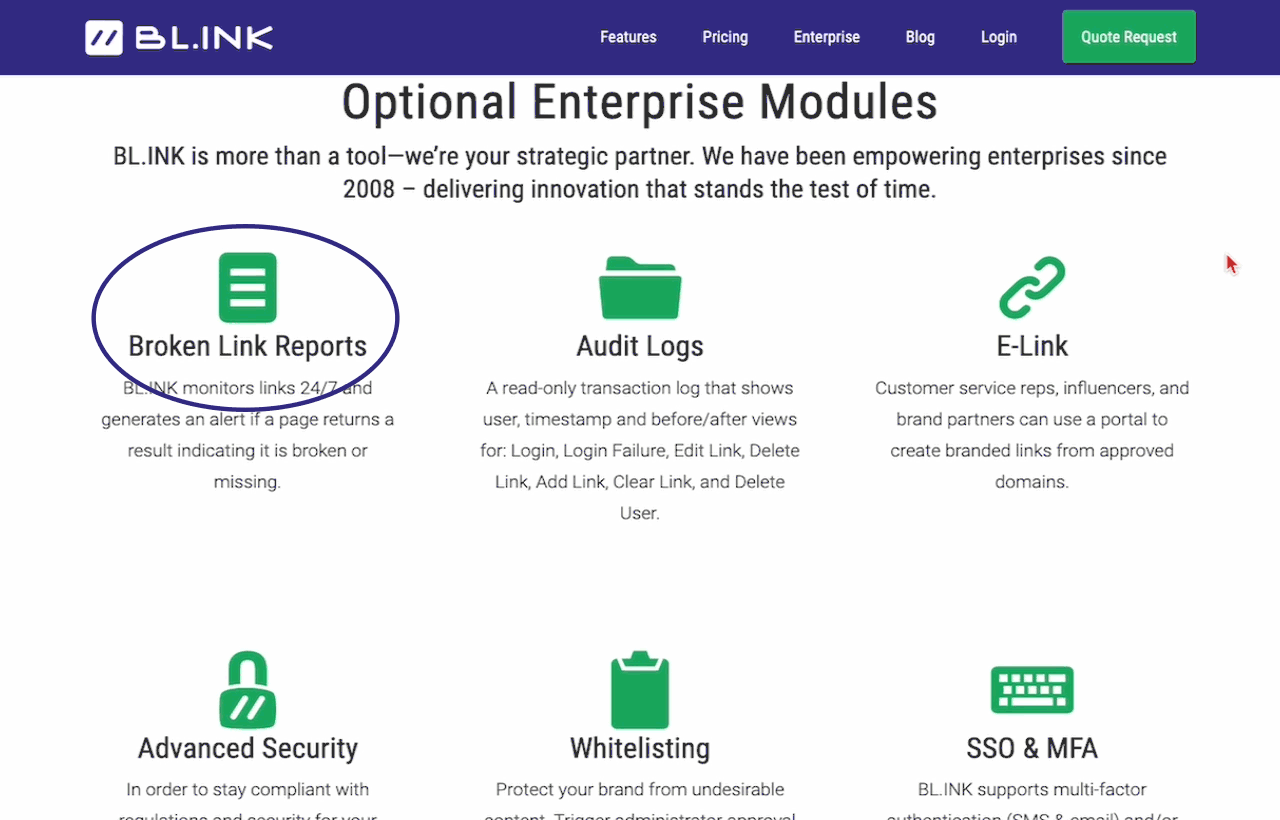 Audit Logs for Optimal Compliance
Enterprise users often need to know every change that happens inside the BL.INK platform. The BL.INK audit logs include information on who created a link, who edited a link, who deleted a link, if the link was transferred from one owner to another, if someone made a change to the destination of a URL, and more.
The audit logs are read-only, and with our audit log add-on, you have direct access to search or download the audit logs to meet your compliance needs.
E-Links in Action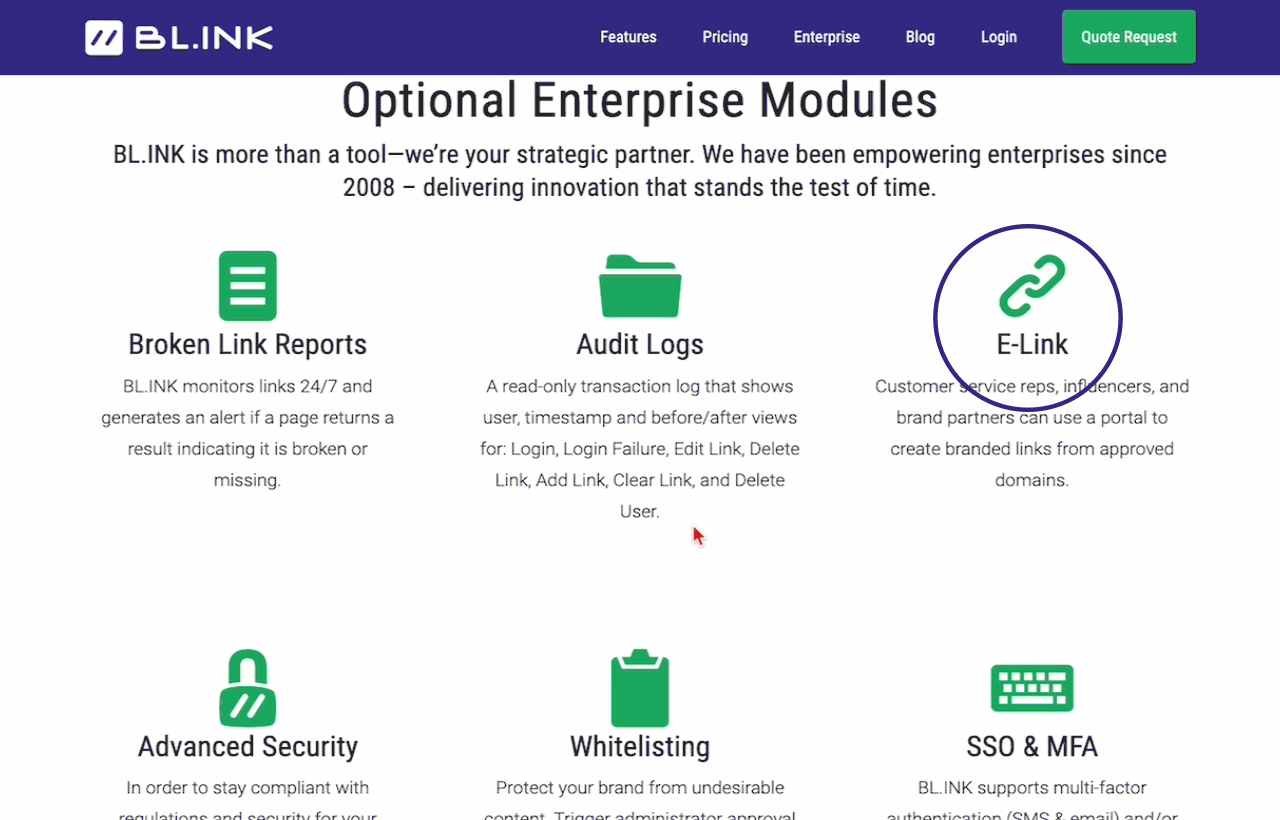 E-Link is a public page where anyone can create a link on your branded, short domain to pre-approved destinations.
In most cases, it's the customer website – anyone can create a short link but it can only point to your website.
Whether that be a single website or multiple, you get to choose exactly what the safe destinations are. This page can be public, where anyone can access it, or you can also host it internally, on your intranet, so that anyone within your company can access it but no one can access it externally.
There are several different ways to structure this, but E-Link allows enterprise users to open up BL.INK to tons of different users without requiring them to log in to BL.INK.
It's a simple landing page, where users can choose their destination domain and a destination URL. Then they can save, and they immediately have a short link that matches your branding guidelines.
Advanced Security Matching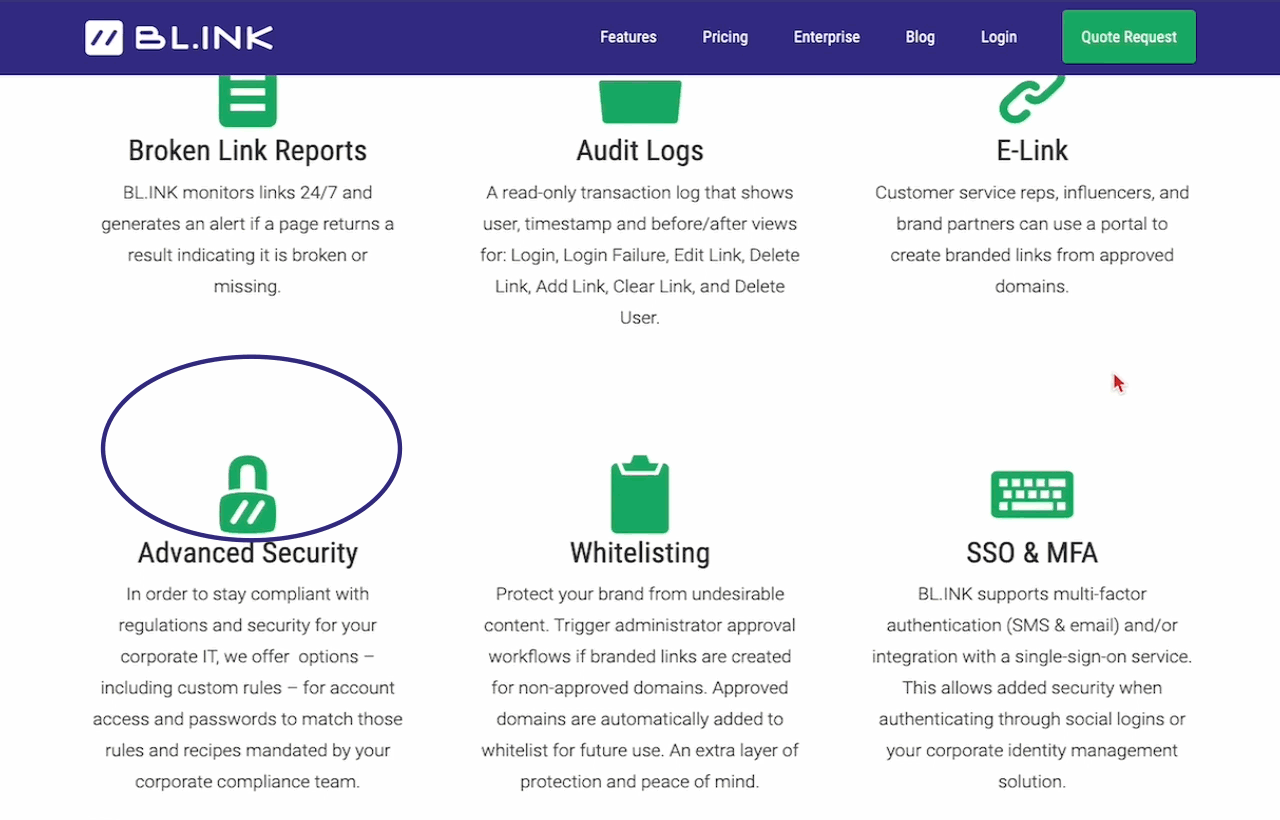 Advanced security allows BL.INK to match and meet your security guidelines. Many organizations have rules about:
Password links

Password rotation

Password compliance

Limits on recycling passwords

Canceled accounts automatically locking after a set time of inactivity


Advanced security allows BL.INK to mirror and map your settings so that your compliance needs are perfectly mapped inside of BL.INK.
Whitelisting: Approved Destinations
Organizations in banking, finance, and healthcare often want to ensure that every link is redirecting to an approved destination. With whitelisting, you can set authorized link destinations directly within your BL.INK account. This prevents users from creating links to unauthorized destinations.
Links pointing to destinations that have not yet been approved will be held in a queue until an administrator approves. During the approval process, a link administrator can approve the destination just once, approve the destination permanently for all new links, or reject the destination.
This gives full control over where the links are pointing, and allows an extra level of visibility and oversight, especially in highly-regulated industries. This applies to both new and existing links – so if a link's destination is edited after a link already exists, we'll automatically freeze the link and lock the change until an admin approves it – that way, you're always safe and secure.
Single Sign-On
Enterprise BL.INK users can enable single sign-on (SSO) for their accounts. BL.INK will integrate seamlessly with your existing SSO provider so that your account users are able to automatically log in through the same SSO that you use internally.
We can also enable automatic provisioning or de-provisioning of your users. When you have people onboarding, your system will automatically communicate with BL.INK to notify us of a new user, and they'll instantly have direct access to BL.INK.
If an employee has left the company, we automatically de-provision that user and transfer any existing links to another user to ensure that links are never lost. The account itself is locked and removed.
Additional Enterprise Offerings
These are just a handful of the most popular enterprise-only modules BL.INK offers. We're also able to do custom data reports, data feeds, integrations, and API components for our enterprise clients.
If you have questions about other ways we may be able to custom-tailor your enterprise experience or the different modules that are available, please drop us a note! We're happy to help.