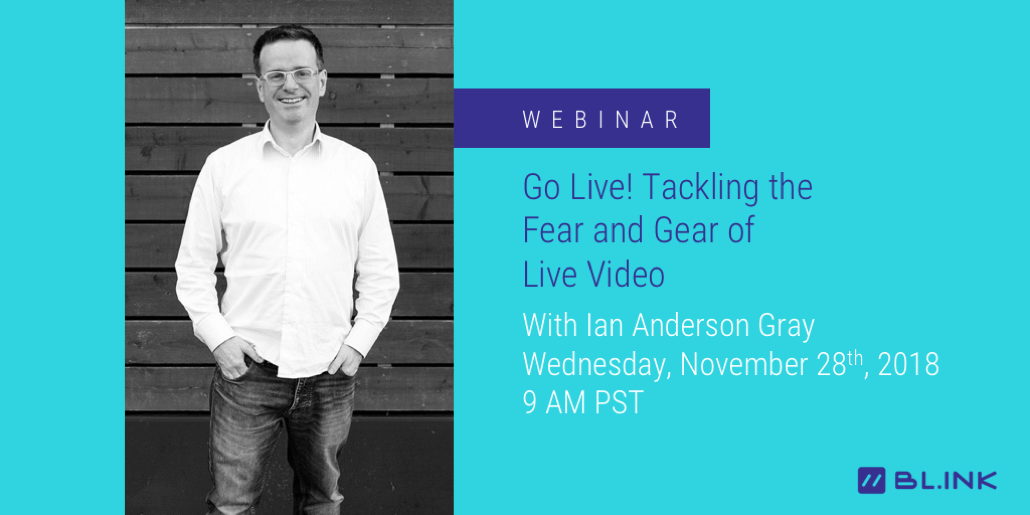 Webinar: Tackling the Fear and Gear of Live Video with BL.INK Advisor Ian Anderson Gray
Eighty percent of consumers would rather watch a live video than read a blog post, according to a Livestream and New York Magazine survey. But there are a few things preventing many entrepreneurs and marketers from taking the plunge and going live.
In this webinar, BL.INK advisor and live video expert Ian Anderson Gray shares a wealth of immediately useful tips and tactics to overcome common barriers to using live video:
Fear of being on camera.

Learn the baby steps you can take to help you get more comfortable in front of a lens, plus hear a mindset tip from Seth Godin that's commonly used by theater performers.

Confusion about video tech.

Find out the only two things you really need in order to produce a quality video, and how to avoid lags, choppy video, and dropped feeds. Plus, get recommendations for specific tools to add when you're ready to take your video to the next level.

Lack of confidence in the content itself.

Learn the exact structure and pragmatic outline for live videos, including how to greet guests, when to give your call to action, how to encourage guests to comment and share, and how to promote your video to get the most engagement.
Ian also demonstrates how to turn live video into evergreen content, and how to use BL.INK short links to build a strong brand presence as you create and share your videos.