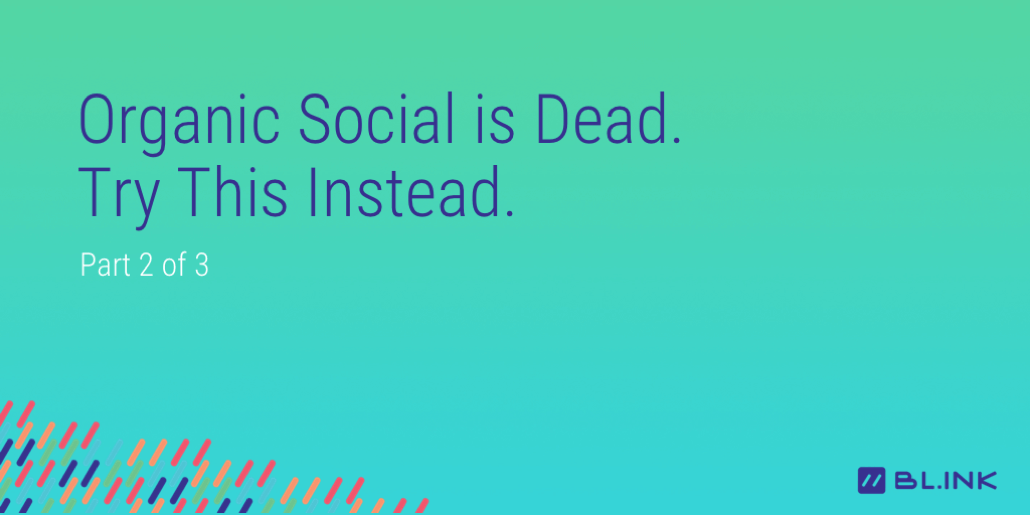 "Organic Social is Dead. Try This Instead." Part Two of Three
Several weeks ago, we were fortunate to host BL.INK advisor and social media strategic Neal Schaffer as a special guest presenter in our educational webinar series.
Neal Schaffer is a leading social marketing consultant; he helps executives and professionals implement successful social media strategies for businesses. He's the CEO of the social media agency PDCA Social; a social media educator at Rutgers University, Irish Management Institute, and the University of Jyvaskyla; a social media keynote speaker who has spoken at hundreds of events on four continents; and the author of three social media books. Neal is a true innovator and influencer in the growing world of social media for business.
If you missed this webinar session, read on to learn more from a world expert! Note: this was such an action-packed session, we've actually divided the content into three blog posts. This is the second post, in the three-part series.
A quick recap of the first article: it covered the rise and fall of Organic Social, and introduced the first of three alternative social strategies: smart and effective Content Curation. Neal suggests employing the "9-1-1" rule; for every promotional blog post that you create (about your product or service) be sure to include nine posts that were created by advocates, important influencers, your customers, your partners, your fans, or peers in your industry (that aren't direct competitors); these should have direct appeal and value-add to your target audiences. Finally, and most importantly, the other "1" post you create should also be of high value-add to your audience (and not necessarily promotional).
Today's topic is all about Influencer Marketing.
Strategy 2: Take Advantage of Influencer Marketing
In 2015, Nielsen reported that 92% of people on social media trust the recommendation of someone they know, over a pitch from a company. While three and a half years is a long time in Internet time, that statistic still "feels" true to most marketers.
In the interim, a new form of trusted resource has emerged, the influencer. Influencers have turned their passions into careers, by trading on their enthusiasm, authoritative expertise, top-notch content, and the resulting attention of their many followers. And since influencers have more direct interaction with their followers, they continually build and reinforce significant trust with their audience. Some influencers are also willing to partner with businesses to advocate for products and services, but with important caveats: they need to believe in and use those products/services before actively promoting them.
The Numbers on Influencer Marketing
Influencers' effectiveness can be quantified. According to market research by Nielsen and Edelman, the influencer market is thriving and growing:
Influencers are a natural element of the social media landscape. Social media was built for people, not for brands. Influencers have an edge because they engage on social media as people, not as businesses. Many influencers expanded their popularity organically, as an outgrowth of their own interests, which in turn attracted followers who were inspired by their passions and non-promotional content.
An example of an influencer in the bodybuilding niche (see figure below) who inspires his fans while wearing the clothing provided by his sponsors.
Influencers can be powerful advocates for your products or services. However, to use them effectively, you need to understand this ecosystem and select the types of influencer marketing tactics that will work best for your business needs.
Types of Influencer Marketing
Product-Centric
"Gen 1" influencer marketing on the Internet started with product reviews. Marketers would induce bloggers with free giveaways, in return for a product write-up. Next came affiliate links and discount or promo codes, to reward influencers for sending traffic to the company's website. These transactional approaches are all product-centric, yet for many businesses, this form of influencer marketing is still valuable. A crowd-sourced version of this approach is the Product Hunt website; anyone can join (and submit their tech-related product or service), once they agree to review frequently and "upvote" other products.
Content-Centric
The content-centric influencer is someone who produces content related to your brand that creates interest among their followers and also gives you something to share, too. Content influencers can boost and amplify the content you craft to their audiences, or both parties can collaborate on shared projects of interest. Neal Schaffer, BL.INK Advisor, is a content influencer: we're sharing his ideas regarding social strategies because we believe our audience will benefit from his thinking (and if you've read this far, it's likely our hunch was correct). If you learn things that are valuable to you here in the BL.INK blog, it's our hope that you'll come back to learn more about BL.INK, too.
Tracking Influencer Marketing by Using BL.INK
Keep in mind that when you work with influencers, you're building a relationship with individuals. At times, you'll rely on them to post content, which gives you less control and less insight into the performance or uptake of that content. One way to retain insights into that performance is to create BL.INK links to this content and share those links with influencers, so you can track how many people are clicking on those links. As with your own curated content, you can use unique tags for your different influencers to measure success and determine where you should increase your investments.
Influencers are a growing part of the social media landscape; if you're investing in social strategies, influencers need to be a part of your mix. As you consider your options, be sure to devise the kind of influencer marketing approach that will meet your overall business objectives. The good news: those options are expanding and flourishing.
Stay tuned for Part Three of the three-part blog posts on Neal Schaffer's engaging webinar, "Social is Dead. Try This Instead."