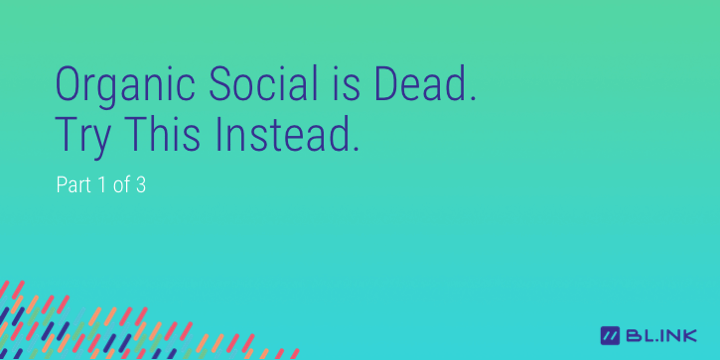 "Organic Social is Dead. Try This Instead." Part One of Three
From our webinar with Neal Schaffer, Social Media Strategist and CEO, PDCA Social.
Several weeks ago, we were fortunate to host BL.INK advisor and social media strategist Neal Schaffer as a special guest presenter in our educational webinar series.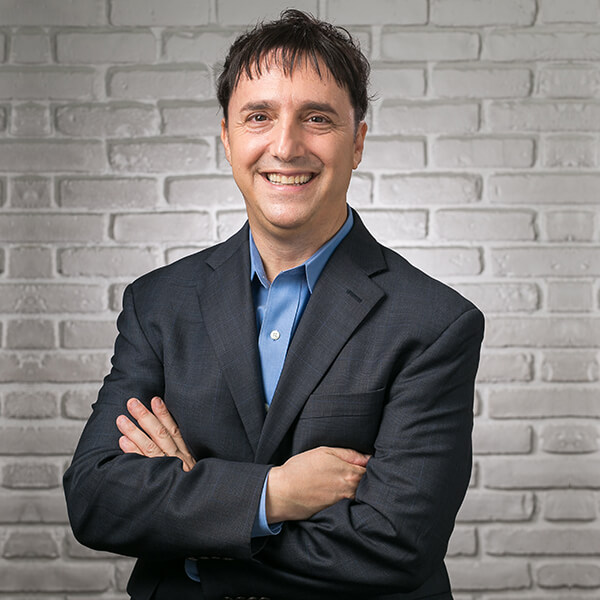 Neal Schaffer is a leading social marketing consultant; he helps executives and professionals implement successful social media strategies for businesses. He's the CEO of the social media agency PDCA Social; a social media educator at Rutgers University, Irish Management Institute, and the University of Jyvaskyla; a social media keynote speaker who has spoken at hundreds of events on four continents; and the author of three social media books. Neal is a true innovator and influencer in the growing world of social media for business.
If you missed this webinar session, read on to learn more from a world expert! Note: this was such an action-packed session, we've actually divided the content into three blog posts. This is the first in the three-part series.
Most social marketers have heard the phrase "organic social is dead" – scary stuff. But social media marketing (SMM) is all about experimenting and adapting; even if one strategy becomes less effective over time, you can be sure to find three more to take its place.
"Organic Reach" in Social Media Marketing
There are two types of posts on social media – paid and organic. Organic posts are content (e.g., words, pictures, or videos) that people and businesses put out on their social media handles. Because no money is changing hands between the content creators and the social media platform, this organic content appears wherever the social media platform's algorithm determines it to be relevant to its audience. The number and types of people that see this content are known as its "reach," and reach is a lot harder to control or predict when it's organic.
Paid posts are various kinds of ads that people and businesses put in front of their target audience – usually in specific locations that the social platform (Facebook, or Instagram, or others) determines to be of value to the content creator/advertiser (more on paid social later in this article).
The Statistics of Organic Reach on Social Media
So, how is a post's organic reach determined? Each platform has its own algorithm for reach, but as the largest social network, Facebook serves as a good example:
But it's actually more complicated than the equation above; there are literally thousands of factors that determine what's shown, where it's shown, when, and to whom it's shown, especially in the "interest" category. And these myriad factors are all part of Facebook's "secret sauce" algorithm; we'll never be able to make the perfect organic post, at least not on purpose.
Even more interesting, the reach of organic posts has been declining steadily:
Five years ago, Facebook and other social networks were great places for small businesses to get a lot of attention without spending a lot on advertising. An organic post could reach nearly 20% of a business's followers for free. Over just the last five years, that number has dropped to nearly 0%, even for big famous brands such as Proctor & Gamble. Not every platform works exactly the same way, but if the numbers above are a proxy for the state of the industry, it seems organic social reach really is dead.
So why did this happen? It comes down to the numbers. There are more people, more news outlets, and more businesses all posting more frequently than ever before, all of which compete for attention and space on the news feed.
Social Media is Now Pay-to-Play
Equally important, Facebook's own business strategy is to monetize the eyeballs that show up on its website every day, and that means providing compelling reasons and ways for advertisers to pay to reach their target audiences. Increasingly, businesses rely on social media advertising to reach massive targeted audiences, since that's where people are spending a larger portion of their time.
Social Media Marketing Strategies in a Post-Organic World
If organic social has low value, does that mean you shouldn't publish anything? Not at all, it's just that there are ways to be smarter about your social marketing strategies. This means maximizing your reach and impact without spending endless hours creating content or paying the platforms for tons of ads. Here are Neal's top three strategies to make social marketing work, in a post-organic world:
Strategy 1: Amplify Your Efforts with Content Curation
It's important to continue posting on your social channels to keep them relevant and active. Making your own content provides a lot of value to your audience, but it's time- and budget-consuming. So what can you do instead? Use other people's content – that is, curate (tailor and present) others' content to meet the interests of your target audience. Sharing is the cornerstone of social media, and that goes for content, too. This isn't plagiarism; you're giving credit to the content's creator, and you're also amplifying its reach to include your audience since you believe they'll find it informative, entertaining, or useful.
Who benefits here? Your audience benefits because they see something new and relevant. The content producer benefits because they get more eyes on their creation. And you benefit, because you're adding value to your audience and being rewarded (we hope) with their engagement.
Here's an example of BL.INK curating content (see figure below). Backlinko created the content, but when we share it, our name and logo go along with it, keeping us top-of-mind on Twitter. At the same time, Backlinko's site gets traffic when our audience clicks on it, so everybody wins.
How to Curate Content
The best way to curate content is to identify the topics for which you want to be known and respected, and then searching for those topics on different social channels. For example, on Instagram and Twitter, hashtag searches can be a great way to find other content creators who are in your industry. Just find the most popular posts from non-competitors, then share them while giving an introduction and shout-out. In our example above, we shared content that was relevant to our topic of smarter links, and from someone who isn't a direct competitor. Businesses in every industry have peers who can support each other's content.
For a faster way to find content, there are plenty of curation platforms that syndicate it across different social media channels, provide analytics on the content's performance, and let you bookmark it for later while you put together your plan.
Encouraging User-Generated Content
User-generated content (UGC) is content from your fans. Sometimes, a fan just can't help him-/herself and will create or share something about you (or your company) out of love for your brand. Not only is this very flattering and excellent word-of-mouth endorsement, but it also can have a greater impact because it's an individual's social media profile, rather than a business's page. Individuals are favored by the algorithms on most social media platforms.
If you have lots of satisfied customers, you might find some organic UGC with hashtag and @ searches on Instagram and Twitter. If you're still building your brand, you can induce fans to create user-generated content through contests and other rewarding events. For example, "Share a pic of you using our product with #OurBrand, and you'll be entered to win a free month of our product!" That sort of simple contest can drum up extra social media engagement at a fraction of the cost of an ad campaign.
The 9-1-1 Rule for Content Creation
So if creating your own helpful content is good but time-consuming, and sharing other people's content is easy but indirect, and you're trying to balance all of this with your ultimate goal of getting some return on investment in social media, what's the right ratio for your activities? Neal's 9-1-1 rule is the perfect solution. You should post:
9 pieces of content curated from others, such as your advocates, important influencers, your customers, your partners, your fans, or peers in your industry (that aren't direct competitors).

1 piece of primary content that is an original post that adds value to your audience.

1 piece of promotional content that talks about your product or service.
This ratio is not only more helpful to your audience, but it's also a lot easier to maintain at a high level of quality (and it certainly beats pumping out content all by yourself). You're only producing two pieces of content for every 11 that you post; one of those 11 is really just an ad. Using the 9-1-1 strategy frees up your time and resources, while still providing a lot of life for your channels and a lot of value for your audience.
Tracking Curated Content with BL.INK
One drawback to curating content is that you can't measure its effectiveness merely by sharing; you don't automatically track when someone clicks to another person's site. So, a great way to measure your curated content efforts is by using BL.INK to create unique, original links for other people's content. BL.INK enables you to add tags to your content that represent different categories. For example, you could tag infographics shares vs. how-to's vs. famous quotes vs. funny pictures. Then you can compare the clicks on each type of link to see which tag is ranking highest. Once you understand what's working best, you can create (or curate) more of that kind of content for your audience. You can learn a lot about content performance from just the links.
Companies big and small are curating content to keep their social profiles active at a low cost-per-post, and to ensure that their content is not overly self-promotional. Follow the trend and find something interesting to share.
Stay tuned for Parts 2 and 3 of the three-part blog posts on Neal Schaffer's engaging webinar, "Social is Dead. Try This Instead."