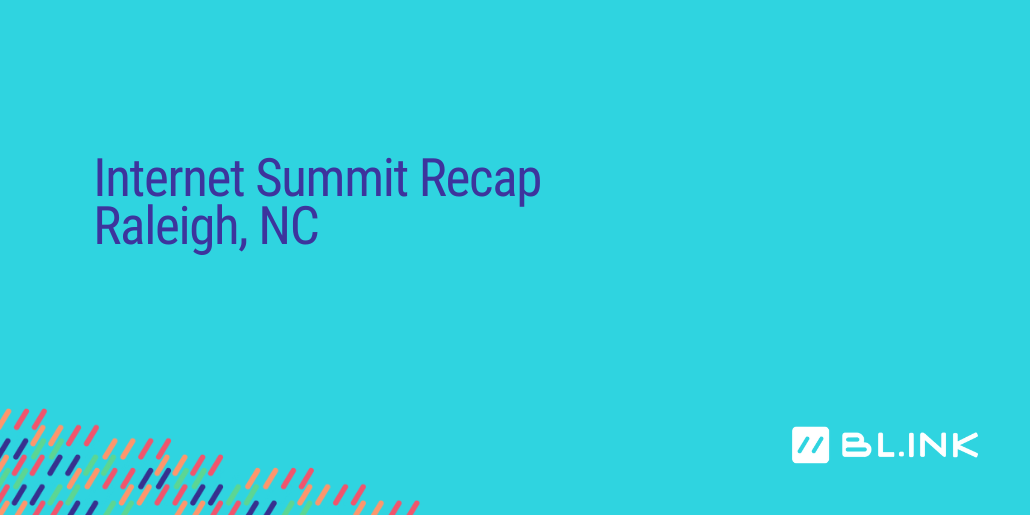 Internet Summit Raleigh Recap
Last week, the BL.INK team had a fantastic time learning, sharing, and networking at the Internet Summit in Raleigh. Here's a synopsis of what we did and what we learned:
Raleigh Is Where It All Began
Did you know the Digital Summit series began in the Research Triangle back in 2008? In previous years, Raleigh has been the biggest, most energetic conference and 2018 was no exception. Digital marketing and technology are alive and well in this part of the country. We were impressed by the range of attending businesses and organizations – IBM, Baker Roofing Company, Duke University, Fidelity Investments, LexisNexis, and many others – all seeking to grow their digital marketing capabilities.
Conference Presenters
With so many compelling speakers (86 to be precise!), it was impossible to see each session, but we did catch several worth mentioning, including three of our BL.INK advisors:
Seth Godin – Marketing Legend and Author – Seth talked about his new book and hosted an informative Q&A session. He had many sharp insights which can be summarized in his visualization: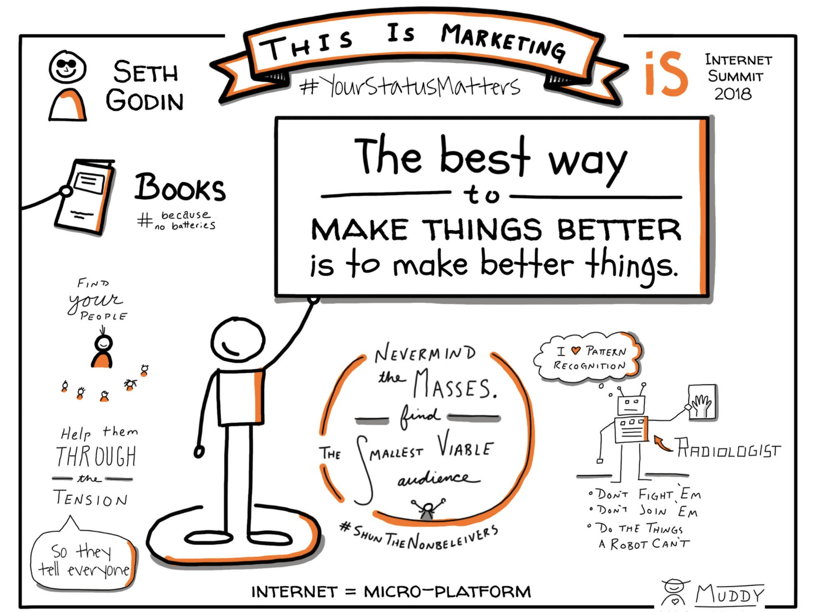 Ashley Ward – Speaker, Author, Content Marketer Extraordinaire – Ashley spoke to a riveted crowd about creating great content AND getting that content in front of the intended audience. One of our favorite quotes was 'Content is king but distribution is queen'. We couldn't agree more and believe that using branded short links is a smart way to get valuable brand impressions every time you share your content.
Brian Massey – Founder of Conversion Sciences, Author of Your Customer Creation Equation, and BL.INK Advisor – Brian is easy to find at any conference: think Jeff Bridges in a lab coat. Usually voted best conference speaker, Brian brought the Raleigh house down while helping the audience understand that a dedicated approach to testing and learning will significantly improve website conversion rates. After the presentation, Brian held a book signing with an eager throng at the BL.INK booth, giving away every book he brought to Raleigh.
@bmassey, author and https://t.co/SXScBP8IRH advisor, signing books after a great presentation at @InternetSummit. #ISUM18 #conversionscience pic.twitter.com/VAL4hTysBf

— BL.INK (@blinksmartlinks) November 16, 2018
Thom Craver – SEO Head at CBS Interactive and BL.INK Advisor – Thom held a four-hour master class on Google Analytics, where he reminded marketers to focus on business objectives, metrics focused on growing the business, rather than vanity metrics, which make marketers feel good but don't actually impact their business results. Attendees raved about his class. Our favorite quote from one attendee: 'I'm really enjoying learning what I didn't know I didn't know about Google Analytics.'
Jeremy Goldman – Firebrand Group Founder, Author, and BL.INK Advisor – Jeremy did a great job helping the audience understand that marketing and technology toolsets will continue to morph rapidly and that staying focused on the KPIs of the future (using those and other changing tools) will be critical to marketing success. Here's Jeremy giving a "tweet-out" to his audience:
So many attractive & cool people in the crowd at #ISUM18 today! Don't believe me? Check out these awesome folks at my session. You guys rock. pic.twitter.com/Uijb75SEh6

— Jeremy Goldman (@jeremarketer) November 15, 2018
Thank You
We want to thank the Digital Summit event team for being great hosts and managing a very successful series of events in 2018. We also want to thank the other sponsors, such as Email on Acid, Sprout Social, Wave.Video, Mailchimp, Marketo, and WeWork – all of whom we've gotten to know over the past twelve months in multiple cities. The BL.INK team is thrilled to be included with so many innovative technologies and people. We've enjoyed spending time with digital marketers in each city who have shared their successes and challenges in an ever-changing ecosystem. It's been gratifying to speak to so many marketers who quickly understand the strategic value of using short links with real words to reach their audiences more effectively and to increase brand engagement. Check us out at BL.INK. We're here to help!
Hungry to learn more? Join us for our webinar with online video guru and BL.INK Advisor Ian Anderson Gray next week! Register below.