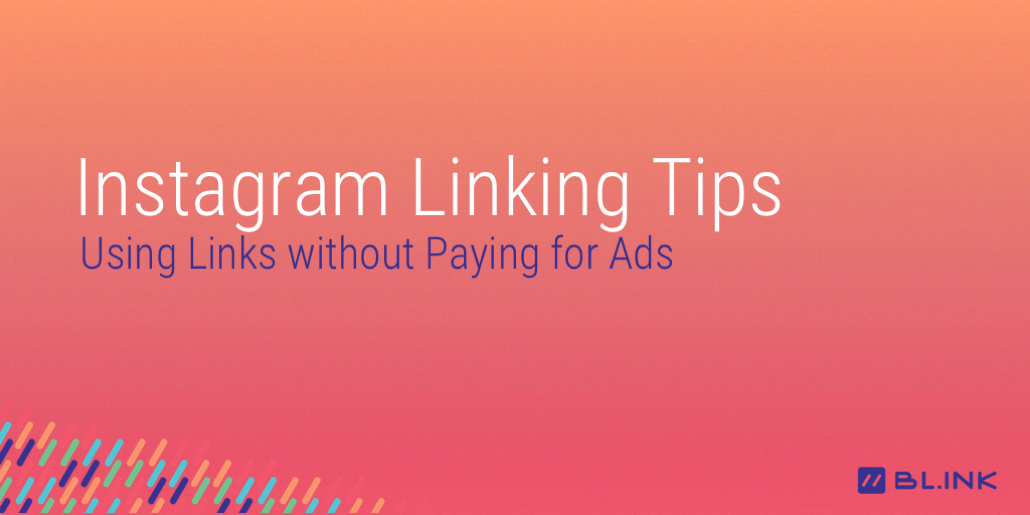 Instagram Linking Tips: Using Links Without Paying for Ads
Instagram: A Massive Audience for Marketers
When Instagram first came onto the scene, it was simply a place to post and share photos. Since then, the platform has rapidly evolved and added many features including stories, video posting, and now even live streaming. With these new features, users could do more to communicate with each other. As its audience grew, companies of all sizes began to take notice.
Today, more and more businesses are leveraging the Instagram platform to get the attention of this highly engaged audience, while influencers and smaller brands are building their entire businesses on Insta. With entertaining and eye-catching content, marketers have access to Instagram's 800+ million users. These users skew younger, are a 'mobile-first' crowd when it comes to devices, and use the platform to see photos and videos of:
Their friends and family, and their many stories

Products and lifestyles they like, from beauty and fashion to art and travel
Celebrities and influencers are popular here, and that's why consumer brands work hard to promote their products to their millions of followers. Once a brand has built an engaged audience on Instagram, they next want to get people to their websites and retail stores. As with most forms of online promotion, branded short links should make this simple.
But it's actually not that simple.
How Links Work in Instagram
Instagram makes it a challenge for both businesses and prospective customers to use links. Here's how it works: a business is allowed to display a single organic link – the website URL listed in its profile. For the user inspired by a specific product, clicking on this link to the "front door" of the business may prove frustrating. Additional links are only possible if the brand is paying for online ads.
Although the app may have restricted linking to the account profile URL, there are still a few tricks to help link your audience to your site through Instagram. Let's walk through the list so you can use the Instagram ecosystem to your advantage.
#LinkInBio: Making the Most of Your Official Link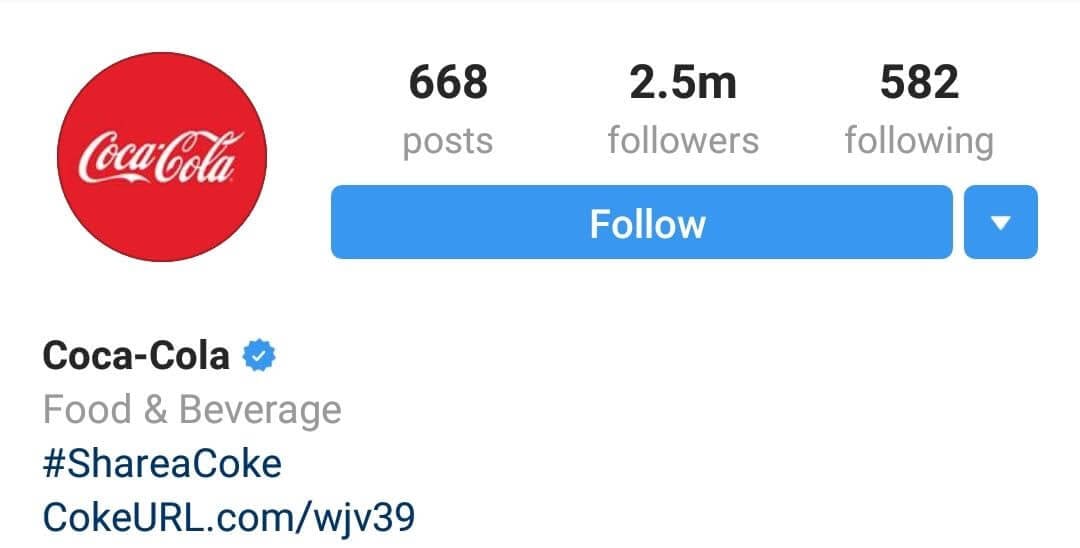 Coca-cola uses a branded short link in their bio for their promotions.
Your #LinkInBio is the personal website field in your user profile options. This is the official link for all Instagram profiles. It's important to understand how to make the most of this free link field since you only get one.
Businesses and content creators on Instagram usually use their single website link to direct followers to click first on their profile from their post and then click on the link underneath their page's name. It's such a common practice that #LinkInBio or "biography" has become well-understood shorthand for it.
How to Add Your Link-in-Bio
Find the content you want to direct followers to, such as a unique landing page for a product or promotion, or a specific blog

Copy that URL

Go to your Instagram profile page, and select "Edit Profile"

Click on the form field for "Website", and paste your link

Now, on any post you make that is relevant to that link, direct people to click on your profile link, either with text on your image/video, in comments, or with the well-known hashtag #LinkInBio
Using Short Links in Your Bio
The space for your website link is pretty small, so a best practice for your link on Instagram is to use a shorter vanity URL rather than the plain, long original one. While there are many link-shortening services out there, most of them churn out a gibberish of numbers and letters, which looks like spam when it's floating under your profile. With a service such as BL.INK, however, you can make your long URLs into shorter links with real words that tell a story. There are two kinds:
Unbranded Links: Use our shared b.link domain to quickly create a generic short link, with the flexibility to customize the link's keyword.
Branded Links:

Create a custom short domain that reflects your brand, and add any extra naming you want after it to describe the specific types of offers you're driving followers to. Branded Links are a quick and easy way to brand your user touchpoints at scale.




Ex. Turn this blog (bl.link

/blog/instagram-linking-tips

) into blink.news/instagram-links
Both kinds of short links including tracking data, so you can track how many clicks you get for specific promotions and other analytics such as location and demographics of the users who clicked on your link.
The Everchanging Link
Once a follower clicks on your link, they are taken to your off-Insta destination, such as a catalog or a specialized landing page. This is where they can further engage with the content promoted on your Instagram post. As stated above, the trouble here is that you can only use a single URL to drive to one landing page.
But change is continuous: You may want to post about a new product launch on Monday, talk about a contest for fans to enter on Tuesday and give a shout-out to a peer for affiliate revenue on Wednesday. That means taking the time to change the link each day, and not being able to drive consistent traffic to one or more promotions.
To make things more challenging, since the Instagram algorithm doesn't always show posts in chronological order, it may show one of your posts on followers' feeds after the link in your bio is no longer related to the post, resulting in confused and frustrated followers.
Turning One Link into Many
To get around manual link-swapping, businesses can use their single link to direct to a landing page full of links to their various current promotions. What you lose in focus, you gain in keeping all your campaigns active.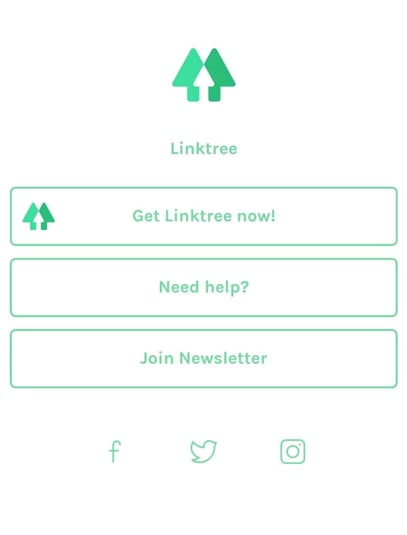 An example of a landing page from Instagram that links to multiple promotions and channels.
To help you create a useful landing page with all your links for Instagram followers, try a service such as LinkTree. It's a free tool that lets Instagram users build a simple, well-designed page of URLs to redirect followers to their various promotions. Get even better results by using a BL.INK short link to create an appealing link in your bio that gives the call to action, and then use more BL.INK branded short art links for the different links on your LinkTree page. This way, all of your analytics will be trackable in one place.
Stories: Your Interactive Link
Instagram Stories are strings of short video clips and photos handpicked by any Instagram creator. Stories disappear 24 hours after being posted, making them a great way to share the latest updates on products, campaigns, promotions, and services.
How Links Work in Instagram Stories
Links aren't displayed directly in Stories. There is a CTA button at the bottom of a slide, which viewers have to slide upwards in order to go to the link. You can embed a link within your Stories, but there are some requirements:
Your channel must be registered as a business account, and have at least 10k followers OR

Your channel must have a "Verified" badge, meaning it has been verified by Instagram to authentically represent a well-known public figure or brand
What this means is that links in Stories are effectively locked down to the already successful and famous. However, it still is a useful feature, and many who run a small business as influencers on the platform can attain 10k followers over time.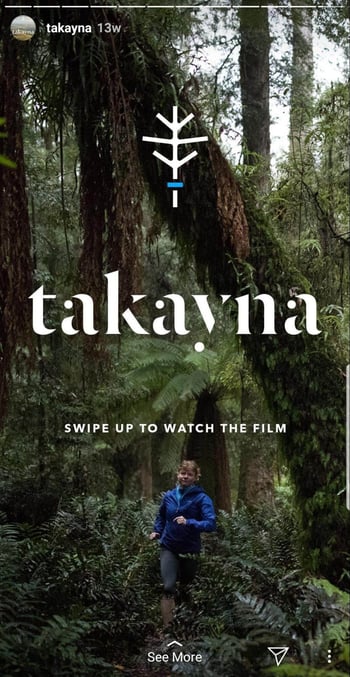 Patagonia created a series of short films in their Story, which followers can swipe up to see.
How to Add Links to Stories
Create a story by looking at your feed, tapping the "+" sign on the top left, and adding photos and videos as you please. You can also add design elements and text.

If you meet the requirements, you will see an option at the bottom to add a link, which will show up in your Story as "See more." It's common practice to place text over linked images or videos in your Story that tells viewers to swipe up.

You can insert a unique link on every slide of your Story, making a great way to show off a number of products, link to different features, or even countdowns.
Workarounds for the Stories Requirement
If you haven't made it to 10k followers as a business account, or aren't famous enough for a Verified badge (which regular Instagram accounts can't even apply for!), you still have options. You can simply type out the link you want people to go to, as text over different slides in your story.
Since the link isn't clickable, it needs to be short, memorable, and easy to type into a browser for your followers. You can use BL.INK to turn whatever link you want to promote into a readable short link. You could even reinforce it by putting it on a video slide as text, and/or voiceover in the video.
Instagram TV (IGTV): The New Frontier
Instagram's latest feature is IGTV, which lets businesses and content creators post videos of up to an hour in length. The content can be just about anything and exists in its own space outside the main feed. Influencers are using them as vlogs, some companies are creating new entertainment, and many businesses are using the space as in-depth commercials and product walkthroughs.
How Links Work in IGTV
Unlike Stories, any kind of account can include a clickable link in the description of its IGTV content. It's a little hidden – a viewer must click on the title of the video at the top of the screen, which drops down the description. Once down, users can tap the link to go to that page. As with Stories, it's good to include occasional calls to action in IGTV video content, to remind users where to go.
By clicking on the title of a video, followers can see your links to other sites.
The Secret IGTV Link Combo
The introduction of IGTV brought a small, but important, change to Instagram Stories – any user can now include a link, as long as it's to your current IGTV content. So, with just a couple of steps, you can effectively link to whatever you want in your Story, by sending followers to your IGTV video, which directs them to the final link.
Unclickable Links in Organic Posts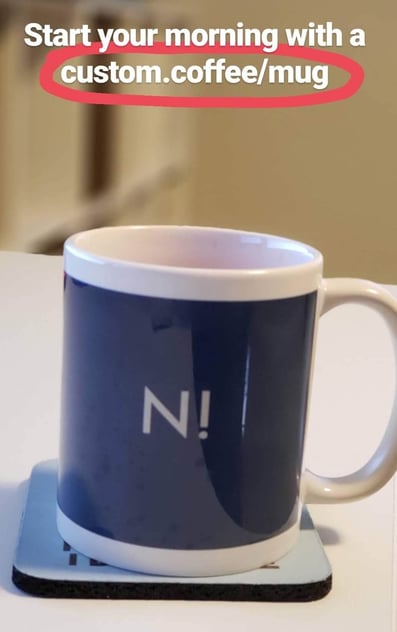 If your link is short and memorable, people can just type it in without needing to click.
The final strategy is to simply type links into your posts' text area, into comments, and within photos and videos. There are two apparent problems with that, which BL.INK helps to solve:
You can't click on the link, so people won't follow it.


BL.INK makes short, easy-to-remember links, so people can recall them to type or copy/paste into their browser.

You can't track how they ended up on the landing page.


BL.INK links have embedded tracking data, so you can track where your clicks come from.
While these links are less likely to be followed than others because of the extra work involved, there is an upside – anybody who takes the time to use them must be really interested, and most likely a real customer.
Enhance Your Instagram Link Strategy with BL.INK
Using links on Instagram seems restrictive at first, but with a few creative twists, and some solid content, you can attract meaningful organic traffic from the platform. Take it to the next level by using BL.INK to get trackable engagement through highly clickable, easy-to-read short links.
Sign up with BL.INK today.