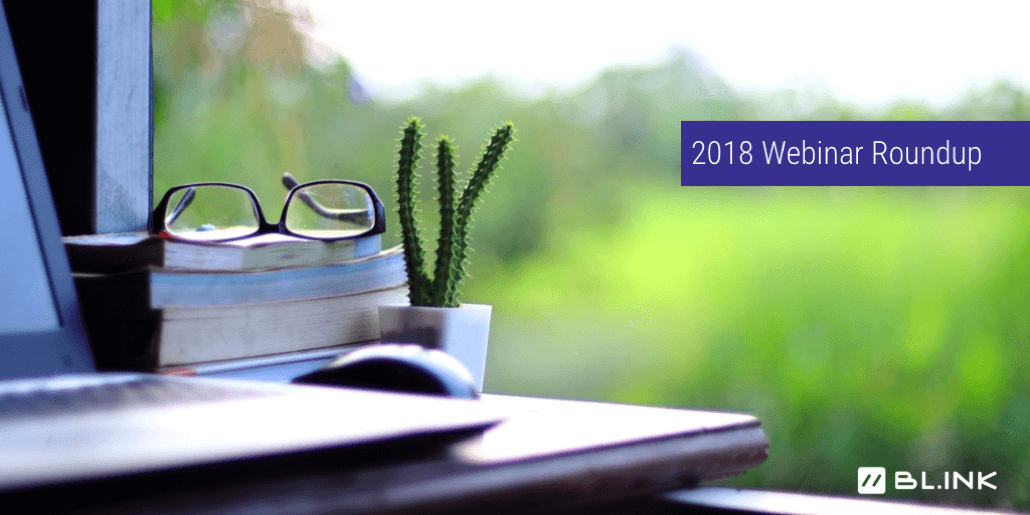 BL.INK 2018 Webinar Roundup
2018 was a fantastic year for learning from the industry's best marketing minds. Start your new year off learning and catch a replay of one (or several!) of BL.INK's live webinars.
Invigorate Your Social Content
Go Live! Tackling the Fear and Gear of Live Video
With Ian Anderson Gray
Watch On-Demand: https://bl.ink/Ian-Webinar
Did you know that 80% of consumers would rather watch a live video from a brand than read a blog post? Despite live video's popularity, many brands still hesitate to take the plunge and go live. In this webinar, live video expert Ian Anderson Gray identifies common barriers that keep marketers from connecting authentically with their audiences via live video and provides pragmatic tips that companies of all sizes can leverage to integrate video into their content marketing strategy.
Organic Social is Dead: Do this Instead
With Neal Schaffer
Read The Recaps: https://bl.ink/sm-strategy-1, https://bl.ink/sm-strategy-2, https://bl.ink/sm-strategy-3
Social Media expert Neal Schaffer reviews the current social media landscape and how marketers can better navigate it to leverage the strategic opportunities that are not apparent. Our recaps of Neal's info-packed discussion include many useful tips, such as:
Better leverage (user-generated) content strategically – including the use of branded short links

Tap into the power of influencers regardless of industry

Include your employees as part of your social media strategy

Make experimentation an essential part of your social media efforts
Geek Out With Data
Everyday Behavioral Science for Digital Marketers
With Brian Massey
Watch On Demand: https://bl.ink/Brian-Massey-Webinar
BL.INK Advisor Brian Massey and founder of Conversion Sciences shares how marketers can leverage data to maximize conversion in this webinar.
Brian founded one of the first agencies focused exclusively on website optimization, Conversion Sciences. Today, he teaches marketers how to integrate behavioral science into their everyday work. It is now cheaper to collect and use behavioral data than it is not to. Every marketer and business owner has a behavioral scientist in them and Brian shows you how to make friends with new, affordable tools that you can use right from your desk to drive conversions.
KPIs of Tomorrow: Pragmatic Advice for Digital Marketers
With Jeremy Goldman
Watch On Demand: https://bl.ink/Jeremy-Goldman-Webinar
In this webinar, marketing technology futurist Jeremy Goldman discusses the ever-changing landscape of marketing automation and its effect on digital marketing programs. When marketing tools change, what does it mean for how to define and measure marketing program success? Drawing on his expertise and advice to clients, Goldman presents a vision for KPIs of the future – ways to define and measure marketing programs – even while the underlying marketing toolset continues to morph rapidly.
Get Inspired for 2019
Three Strategies to Transform your Marketing with Links
With The BL.INK Team
Watch On Demand: https://bl.ink/Mktg-Webinar-Rec
Many are familiar with short links, but when it comes to marketing, the strategic value of a sound linking strategy is often overlooked. In this webinar, the BL.INK team reviews new market research to demonstrate how transforming your marketing with links can get more results, more ROI on content, and give you an edge over the competition.
Having Fun and remaining Authentic in the Digital Age
With Joel Comm
Watch On Demand: https://bl.ink/Joel-Comm-Webinar
Learn how to have fun while you work – from Joel Comm, New York Times bestselling author, blockchain enthusiast, professional keynote speaker, social media marketing strategist, live video expert, technologist, brand influencer, futurist and eternal 12-year old. In this engaging webinar, BL.INK Advisor Joel Comm describes the genesis of his new book, The Fun Formula, and illustrates how work should be about play. (No, really). And branded short links? It's all about authenticity and transparency.
Dive into these webinars and share your favorites with your colleagues. Want to explore a topic you don't see here? Tweet your webinar ideas to us at @blinksmartlinks. Happy learning!